Uruguay 2009 competitiveness erodes 10.2% compared to main trade partners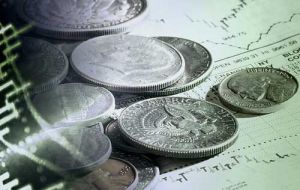 Uruguay' competitiveness eroded 10.2% during the twelve months of 2009, which represents the third consecutive annual loss. The data was extracted from Uruguay's Central Bank Real Exchange Rate index (TCR) which measures variations with the country's main trade partners.
In 2008 TCR lost 7.4% and the previous year, 7%.
Uruguay's loss of competitive capacity is attributed to the fact that last year inflation in Uruguay in US dollars was 31% (domestic inflation, 5.9% plus depreciation of the US dollar, 19%), which is higher than the price index in US dollars in trade partner countries averaging, 17.4%.
The greatest loss was vis-à-vis countries out of the region: 19.3% (with the US, Germany, Spain, UK, Italy, China, among others), while the loss of competitiveness with regional countries was 1.6%.
Among the outer region countries, the largest loss was with China, 21.8%, that happens to be Uruguay's second trade partner if business from Uruguay's free trade zones is included. The lost-competitiveness ranking continues with United States, 21.5%; Mexico, 17.4% and Spain 17%.
Nevertheless in the region Uruguay managed a bilateral competitiveness advance with Brazil of 7.4%, since the Brazilian currency, Real, appreciated even more than the Uruguayan peso.
But regarding Argentina the loss of the Real Exchange Rate index was 26%. However the Uruguayan Central Bank points out that the percentage most probably was less given the fact that retail prices in Argentina were higher than what official statistics show.