Chile hopes to host the world's "Largest Eye In The Sky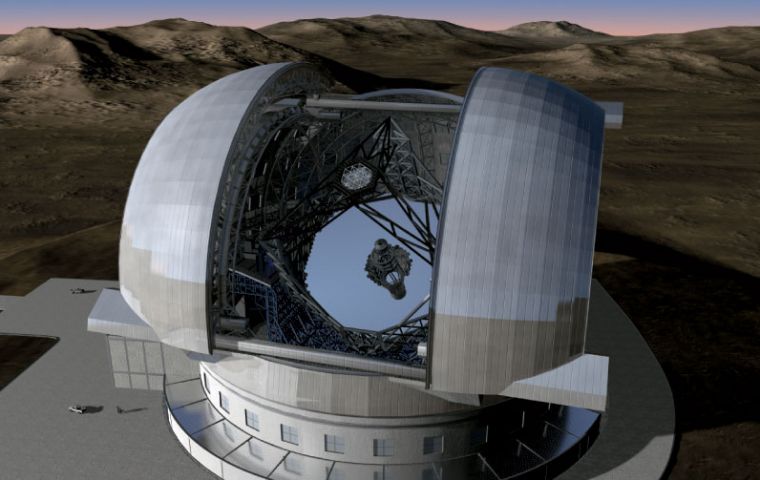 Chile is now competing with Spain for the right to host one of the most important astronomy projects the world has known: the extremely large E-ELT telescope.
The mammoth telescope will provide detailed studies of planets around other stars, the first objects in the universe, black holes, the nature and distribution of the dark matter and dark energy in the Universe and tracking down earth-like planets around other stars where life could exist.
Top Chilean scientists and academics are backing Chile's effort to bring the project to the Southern Hemisphere.
"Chile's skies offer perfect conditions and clarity for viewing space," said Monica Rubio, Director of Astronomy for the national commission for scientific investigation and technology.
"That's why more international telescopes arrive here in Chile than in any other country. From the southern Hemisphere, we can detect the nearest galaxies that appear 10 times clearer to those in the northern skies. Chile would be ideal for the E-ELT and... We could be amongst the ten leading countries in astronomy in the world".
But to woo the new telescope, Chile's astronomical community has to decide how much time they will insist be given to local (as opposed to international) scientists. Normally, scientists in the host country request 10% of all viewing time – and this is a time allotment Chile wants to maintain. Spain's astronomical community, however, is said to be requesting less time.
"My view is that most local astronomers do not feel that Chile is going lose the E-ELT on the grounds of seeking (10%) access to viewing time," said a spokesman for the Chilean Society of Astonomy (CSA).
By Paul Herbert - Santiago Times