US economy rebounds 5.7% in last quarter but overall 2009 was down 2.4%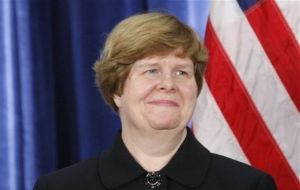 The world's largest economy is back in business after growing 5.7% at the end of last year, smashing all expectations. It was the quickest pace of economic expansion in the United States for six years.
However, even with the pick-up, the US GDP shrank by 2.4% overall for the full year 2009, the worst performance since 1946.
The US economy expanded between October and December at a rate of 5.7% - a figure calculated on an annualised basis, which means it is compared to predictions based on past performance.
The figure was up from 2.2% growth in the third quarter - from July through to September. Analysts said the growth exceeded expectations because companies had spent cash on buying new equipment and software, after holding back during the downturn.
They expect growth to slow this year as companies finish restocking inventories and as government stimulus efforts wind down. Shoppers also contributed to the fourth quarter growth, with Consumer spending rising by 2%, down from a rise of 2.8% in the previous quarter.
White House economist Christina Romer said the strong growth in the fourth quarter of 2009 was "the most positive news to date on the economy".
"It is important not to read too much into a single report, positive or negative," she added. "There will surely be bumps in the road ahead. Nonetheless, today's report is a welcome piece of encouraging news."
US GDP is expressed as an annualised rate, or annual pace which shows what the three months' economic activity would mean if it carried on for a year.
The Bureau of Economic Analysis, which releases the data, emphasised that the fourth-quarter advance estimate was based on incomplete information and was subject to further revision.
Growth in the third quarter was originally estimated at an annualised rate of 3.5%, but was revised down to 2.2% after more information was received.
Commenting on the figures, economist Arek Ohanissian of the centre for economics and business research (Cebr) said: "Today's release confirms that the recovery picked up pace in the fourth quarter of 2009".
"Indeed, the Federal Reserve announced in a statement from its Federal Open Markets Committee meeting earlier this week that, beginning Monday, it will unwind some of the special facilities it introduced during the past two years to increase liquidity and stimulate the economy".
"However, it is still signalling "exceptionally low levels of the federal funds rate for an extended period". He added that "we expect continued improvement in the economy and, more importantly, in the labour market to lead to a rise in the target rate in the latter half of this year."
Mr Ohanissian added the annualised growth of 5.7% translated to a non-annualised quarter on quarter rise of 1.4%.