Falkland Islands: BACTEC set to fly in another 15 deminers
Sunday, January 31st 2010 - 14:22 UTC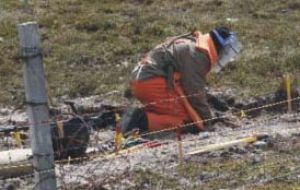 DESPITE the very real progress being made by BACTEC (Battle Area Clearance and Training Equipment Consultants) on the demining of Surf Bay and Sapper Hill minefields, several factors have culminated in the need to bring a further group of deminers to the Falklands.
Demining Programme manager Robin Swanson said the minimum metal mines were much harder to detect than anticipated and the weather had been worse than expected.
"Both these factors have slowed working rates, he said.
"Because of the hazardous nature of the work, the Zimbabweans cannot work faster and we cannot ignore the onset of winter in the May/June period.
"For all those reasons, BACTEC intends to deploy 15 more deminers during February.
"These reinforcements will come from the Lebanon and will be accommodated in Lookout Camp," said Mr Swanson.
He added, "We hope they will be welcomed in the same good spirit as the Zimbabweans."
There are currently 37 deminers working in the two areas near Stanley.
MORE than 432 mines have been found and destroyed to date at the Surf Bay and Sapper Hill minefields which were thought to originally contain some 1,300 Argentine
mines in total.
The figure rises steadily each day. BACTEC has made huge progress, said Demining Programme Manager Robin Swanson, adding that it was particularly encouraging
that both the minefield records made by the Argentine Marine Engineers in 1982 had been accurate up to this point in the clearance process.
Those who have noticed search operations adjacent to the Stanley- Darwin Road near Sapper Hill should be reassured that BACTEC are not looking for mines there.
Mr Swanson said this area was never a minefield but it was the site of a cluster munitions strike, most of which would have been cleared up in 1982.
"Operations being conducted there are searching for sub-surface unexploded sub-munitions that may still remain, and so far two BL 755s have been located under the surface and destroyed," he said. Mr Swanson thanked the community for their patience and adhering to the traffic management.
"We really appreciate the continued understanding," he said. "We would also like to acknowledge and thank those in the local community who hosted the BACTEC Zimbabweans over the Christmas period, in particular Sue Buckett, Alison Ward and Jackie Earnshaw, but we know many others have shown great generosity too."
The demining officers are keen to collect further information about all the minefields.
Anyone who was around in 1982 that has information about any marked suspect area, particularly those in Goose Green, Fox Bay, Port Howard, Port Fitzroy and the Murrell Peninsular, can contact Robin Swanson.
"What may appear to be insignificant information to you may well all add to the corporate memory so please get in touch," said Mr Swanson. ( Penguin News)