Haiti arrests US nationals suspected of child smuggling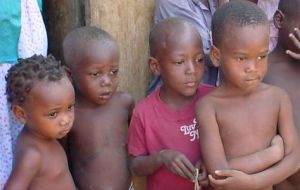 Haitian police have arrested 10 US nationals on suspicion of trying to illegally take 33 children abroad.
They say the Americans were held on the border with the Dominican Republic.
The group from Idaho-based charity New Life Children's Refuge told the BBC they wanted to take quake orphans to an orphanage in the Dominican Republic. But Haitian police said the Americans had no papers authorising to take children out of the country. They have not yet been charged.
Haiti imposed new controls on adoptions to prevent child trafficking after the 12 January earthquake that killed up to 200,000 people.
The Americans are being held at a police station next to the airport in Haiti's capital Port-au-Prince. They told the BBC that their arrest was a mistake and that they were going to take a group of earthquake orphans to an orphanage set up across the border. They said they thought they had had a permission to travel to the Dominican Republic.
"This is an abduction, not an adoption," Haitian Social Affairs Minister Yves Christallin was quoted as saying by the AFP news agency. "What is important for us in Haiti is that a child needs to have an authorisation from this ministry to leave the country," Mr Christallin said. He added that the children involved were aged two months to 12 years.
The earthquake destroyed a number of Haitian orphanages and crippled relevant government agencies.
Local officials have expressed fears that child traffickers will take advantage of the situation to smuggle children abroad. (BBC)