Lady Thatcher's 28 eggs a week diet in anticipation of 1979 election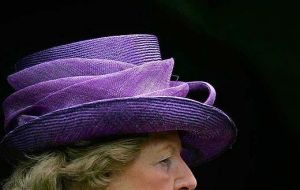 Lady Thatcher was eating up to 28 eggs a week as part of a high-protein diet in the run-up to the 1979 general election, newly-released files suggest. Intended to help her shed 9 kilos in two weeks, the diet is outlined in a note found in a diary from that year.
"I think she was looking to get in trim for the cameras," says Chris Collins of the Thatcher Foundation.
The foundation's files also show Lady Thatcher expected to become PM two years before her 1979 election win. The papers released relate to the first year of her premiership. Mr Collins suggests the diet note "has to be pre-election".
The yellowing note was found inside her 1979 black leather Economist magazine pocket diary.
Lady Thatcher's belief she would defeat the beleaguered Labour administration can be seen in a hand-written letter from August 1977.
Ahead of a US trip to meet members of President Jimmy Carter's administration, she asked management consultants to update her on the "latest industrial and financial matters".
"It is most important that we get the structure and strategy right and I have already come to the conclusion that I shall have to take most of the major decisions myself," she wrote.
But despite earning the nickname the "Iron Lady", the documents show how, once in power, she rebuffed appeals from the US for the "strongest possible remonstration or action" to the Iranian hostage crisis.
Among the 23,198 pages from Lady Thatcher's personal and political files is a 14 November 1979 cable from President Carter suggesting the UK might consider reducing the number of diplomatic staff in the country.
In her response a week later, Lady Thatcher said the UK had withdrawn some staff "but we have not hitherto believed it wise to make a political point of any reduction, partly because we doubt whether the Iranians would be much impressed and partly because of the risk of retaliatory action against those remaining".
In one of her most controversial interviews, for Woman's Own magazine in 1987, Lady Thatcher said there was "no such thing as society".
The sentiment is evidenced years earlier in draft notes for her maiden address to the October 1979 party conference and suggest it was a long-held opinion.
She wrote: "Morality is personal. There is no such thing as a collective conscience, collective kindness, collective gentleness, collective freedom. To talk of social justice, social responsibility, a new world order, may be easy and make us feel good, but it does not absolve each of us from personal responsibility."
In the end the comments were ignored by her speechwriters.
Many of the papers covering the May to December 1979 period are available online.
Notes on Lady Thatcher's first cabinet show there was a last-minute reshuffle.
Written in pencil, the first draft has Michael Heseltine down as energy secretary.
But the entry is scribbled out after an objection from the now Lord Heseltine and he is instead chosen as environment secretary.
And the papers show a Downing Street aide was rebuked after proposing Lady Thatcher's image might be used on a range of merchandise, five days after she came to power.
In a note, Gordon Reece said he was "inundated" with requests for postcards, tea cups and tea towels. Lady Thatcher was resolute and wrote at the bottom of his letter: "NO permission to be given at all on any goods of any kind. Don't mind a straight photograph". (BBC).-