Making science simple: "An Angler's guide to Fish Behaviour'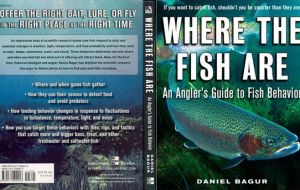 Every fisherman will remember a time when a change in the weather coincided with a surge or lull in fish feeding behaviour. Whatever the species and whatever the weather event there is no doubt about the dramatic and immediate influence the weather can have on a fisherman's catch.
As an English marine and freshwater biologist during my time at University I read through hundreds of scientific research papers on fish behaviour, biology and ecology. I noticed that hidden between the equations were practical tips and facts that would be of great use to the angler.
'Where the Fish Are – an Angler's Guide to Fish Behaviour' is aimed at fishermen and is not technical. In effect I wanted to give fisherman access to the relevant parts of otherwise inaccessible scientific papers: the practical facts between the equations. I have taken anything of interest to anglers from the papers and included it in my book. Weather has long been a big (and much debated) factor in fishing success or failure and this is the first book to use scientific research to answer and explain the reasons why. I feel that there has long been a need for fishermen to get to the bottom of these issues and decided to use science (and not merely opinion) to lay out the arguments.
I am a keen fisherman myself and have found that my own success has improved during the 7 years it has taken me to research and write this book.
In 'Where the Fish Are' I looked at what it would be like to be a fish and followed this with a chapter by chapter account of how each weather condition (rain, wind, light etc...) is likely to influence fishing success:
The book covers sea, freshwater and game species and is on sale worldwide. The research inside is relevant to anglers everywhere and will help beginners and experts alike.
Without the aid of technology, almost all animals have a much more refined ability to sense the changing weather than we meteorologically blind humans. To us, relatively harsh extremes of weather are seen as a beautiful display from the heated inside of our homes.
Fish are able to detect and adapt to the subtlest of changes while we only react when caught in the teeth of the most severe conditions.
Even minor changes in surroundings within a fish's locality disrupt the fine balance between a fish's own body and its external environment. These constant changes mean that a place along a riverbank that was full of fish a few hours ago may now hold none because they have gone elsewhere. This book aims to use international scientific research, explained in simple terms, to describe exactly where the fish are likely to be, what they are likely to be feeding on and how best to catch them.
Where The Fish Are - An Angler's guide to Fish Behavior'
By Daniel Bagur
McGraw-Hill 2009, http://www.mhprofessional.com/product.php?isbn=0071592911
Black and white photographs and artwork by the author
164 pages, paperback
ISBN: 9780071592918