Obama budget proposal has record deficit of almost 11% of GDP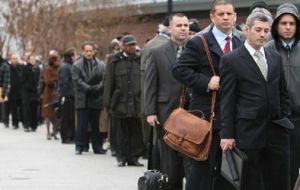 United States President Obama's new budget proposal is set to leave the US with a record-breaking deficit of 1.56 trillion US dollars. The figure is almost 11% of the country's GDP. Economists generally consider annual deficits of more than 3% to be unsustainable.
The deficit of 1.56 trillion USD is higher than the administration's previous record of 1.4 trillion last year. This rise was partly due to spending associated with a package of emergency stimulus measures that President Obama signed last year.
The plan for the 2011 year, which starts on October 1, will be outlined to Congress later.
Mr Obama said his budget, which includes billions of dollars to create new jobs while also pushing for fiscal responsibility, reflected "serious challenges" facing the US.
These included fighting wars in Iraq and Afghanistan, high unemployment and massive government debts. He said: "In the long term, we cannot have sustainable and durable economic growth without getting our fiscal house in order."
To boost jobs, Mr Obama is setting aside 100 billion USD billion in 2010 in tax credits aimed at small businesses as well as investments in clean energy and infrastructure.
The US President announced a three-year freeze on government spending, excluding the military and homeland security, as well as tax rises for energy producers and the wealthy.
There will also be a curb on NASA's replacement for the Space Shuttle, the Constellation project, which had been designed to take the US back to the moon. Instead, private companies will be encouraged to build, launch and operate their own spacecraft for the benefit of NASA.
The funding gap was forecast to dip to 1.27 trillion in 2011, or 8.3% of GDP, and fall to roughly half that as a share of the economy in the final year of Obama's term in 2012, meeting a key pledge.
The President's first year was dominated by health care reform but following a string of defeats for the Democrats, the administration continues to convince the public that it is focused on fixing the economy.