BBVA takes over Credit Agricole becomes Uruguay's second largest private bank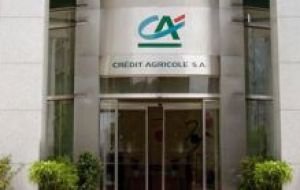 French bank Credit Agricole SA will sell its Uruguayan subsidiary, Credit Uruguay Banco, to the local unit of Spain's BBVA it was confirmed in Montevideo and Madrid.
Credit Agricole said in October it was in talks over the sale of its Uruguayan subsidiary as part of a wider strategy to focus on the European market.
Brazil's Banco Itau, Uruguay's Banco Comercial, and HSBC (Argentine franchise) had also shown interest in acquiring Credit Agricole's local subsidiary.
Credit Agricole has 36 branches in Uruguay. At the end of 2009, it held some 24.59 billion pesos (1.25 billion USD) of assets and 22.89 billion pesos (1.17 billion) of liabilities.
BBVA has nine branches in Uruguay. BBVA assets for 2009 were 17.93 billion pesos (912 million USD) while its liabilities at year-end stood at 16.46 billion pesos (838 million USD).
The sale operation estimated in over 100 million US dollars will be completed in the coming months. The Central bank and the local bank employees union supported the transaction on job stability grounds.
Once the sale is completed, the new bank will become Uruguay's largest private banking institution after Spain's Banco Santander.