A billion US dollars to purchase Piñera's Lan airlines shares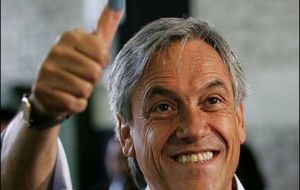 Costa Verde Aeronautica SA, the holding company owned by Chile's Cueto family, plans to raise 1 billion US dollars in a move analysts say will finance the purchase of Lan Airlines SA shares from President-elect Sebastian Piñera.
Costa Verde may sell 500 million new shares at 2 USD each, the company said in a statement distributed at a shareholders meeting in Santiago. It didn't disclose how it plans to use the money.
Piñera, who agreed to sell the shares before taking office on March 11, controls Lan in an agreement with the Cuetos, who have an option to purchase his shares. Axxion SA, the company through which Piñera owns a 19% Lan stake, received approval from shareholders to sell the shares.
Axxion's 19% stake in Lan is worth about 1 billion USD at market prices. Piñera owns 26% of Latin America's biggest airline by market value.
"Axxion's board was authorized to proceed with setting a price for the Lan shares and initiating the sale mechanism stipulated in the shareholder pact with the Cueto family," Fernando Barros, the company's chairman and Piñera's legal adviser, wrote in a statement distributed by e-mail.
Axxion has been halted at least four times as shares surged 140% before tumbling as much as 48% since the billionaire investor won a January 15 presidential vote, sparking a regulator's probe and reigniting criticism of his refusal to sell his investment before the vote.
The sale of Axxion's Lan shares should net Piñera an estimated 1.5 billion US dollars. He still holds another 7% of Lan through the Santa Cecilia society.