Argentina's strong man undergoes successful emergency surgery
Monday, February 8th 2010 - 05:05 UTC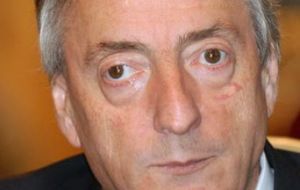 Former Argentine president Nestor Kirchner, husband of the current President Cristina Kirchner, underwent successful emergency surgery on Sunday, the government news agency reported.
"The news is good, the operation is over, everything's fine," Foreign Minister Jorge Taiana said on his way out of the hospital where the ex-president was being treated for problems with his right carotid artery.
The 59-year-old former president, who remains a lawmaker and leader of the Peronist (Justicialista) party, was earlier admitted to the private Los Arcos hospital in the capital's Palermo district with his wife at his side.
Dr. Marcelo Ballesteros, deputy director of the Argentine Presidential Medical Unit said the surgery was finished just after 9 p.m. local time (7 p.m. ET) and that Kirchner "will remain in intensive care with constant monitoring," according to Telam.
Kirchner was president from 2003 until 2007, and before that governor of the Patagonian province of Santa Cruz.
The former president is credited with leading Argentina out of financial and political chaos following the country's 2001-02 economic collapse and international default. He has been a outspoken critic of Wall Street, the US government and the International Monetary Fund.
He was succeeded by his wife Cristina but so far has failed to live up to promises to reduce poverty.
Unconfirmed local media reports said the ex-president sought medical attention after waking up and feeling as if his legs were asleep.
Carotid trouble is often caused by blood flow being restricted in that artery by calcium and cholesterol plaque. Doctors sometimes clear the plaque if it is detected early to avoid strokes or other problems, or in this case after a problem tips them off to a carotid condition.