Brazil's main political force confirms support for presidential hopeful Rousseff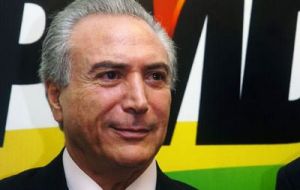 Brazil's main political force, the Brazilian Democratic Movement party, PMDB, reaffirmed its alliance with President Lula da Silva's Workers Party, PT, and closed ranks behind his hand picked candidate for October's presidential election, Dilma Rousseff.
PMDB held its national convention over the weekend to renew authorities and confirmed the coalition with the PT which has been running since 2005, a vital element in facilitating Lula da Silva's congressional agenda.
Given its political weight at national level and in Congress, PMDB is expected to name the running mate for Ms Rousseff presidential ticket. The convention ratified Michel Temer, president of the Congressional Lower House as PMDB chairman, who is considered the most probable Vice president candidate.
In his speech before 600 PMDB delegates meeting in Brasilia, Temer called on the party to join forces with the ruling PT to give continuity to the administration of President Lula da Silva and recommended supporting the candidacy or cabinet chief Rousseff.
Temer also underlined the strength of the party which has the largest minorities both in the Lower House and in the Senate and emphasized that the current Executive "knows very well that without the PMDB they can't rule the country".
However the decision on the vice presidency will not be adopted by PMDB, until PT officially proclaims Rousseff as the coalition's presidential candidate.