Argentina blocks vessel involved in Falklands operations
Thursday, February 11th 2010 - 18:08 UTC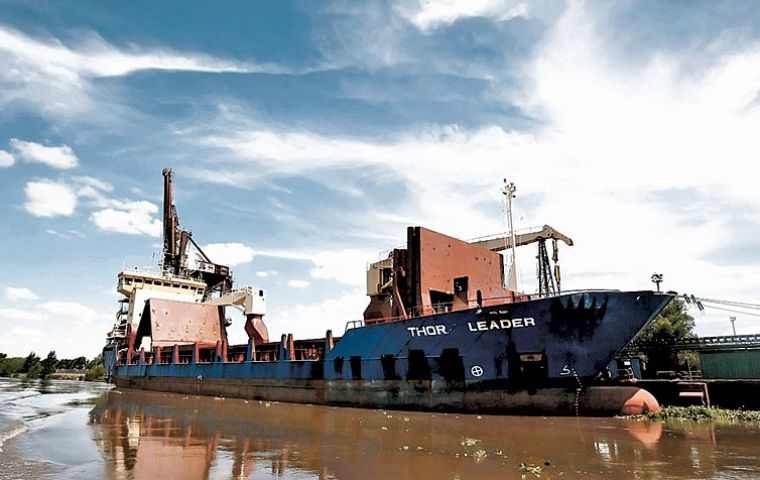 Argentina blocked Wednesday a ship from leaving a Techint Group plant after it traveled to the Falkland Islands without government permission, the Argentine Foreign Office said. The "Thor Leader" is docked in Techint's Campana plant carrying a cargo of 7.099 tons seamless pipes, the government office said in a statement.
"Evidence exists that indicate that the freighter was to be used to supply material linked to oil industry activities that the United Kingdom is illegally promoting in the Malvinas Islands," the statement said.
Techint, in a separate statement Wednesday confirmed that the ship is docked at the plant, but denied as "totally false" the Argentine's government's charge that the pipes were bound for the Falklands. It said the freighter was chartered to deliver the pipes to five clients in various Mediterranean ports, none of which have operations in the Malvinas.
"Thor Leader" was blocked from departing because Argentine law requires vessels visiting the Falklands to ask for permission from Argentine maritime authorities first, the Foreign Ministry said.
The Argentine move comes in reaction to the imminent beginning of oil exploration in the northern basin of the Falklands. An oil rig "Ocean Guardian" is due to arrive in the Islands waters, contracted by Desire Petroleum, to start drilling several wells.
The Falkland Islands elected government with British support has awarded oil and gas exploration and production licences to the north and south of the Islands. Twelve years ago there was a similar round of drilling and traces of hydrocarbons were discovered but the collapse of the international oil price froze the industry's interest.

"The Argentine government had protested on February 2 the renewal of British authorizations for oil explorations in areas of the Argentine continental platform illegally occupied by the United Kingdom," the Argentine foreign ministry said.
It said the shipment of pipes was halted in Campana by the undersecretary of ports after concluding that the freighter had violated Argentine regulations by putting in to the Falklands main port in January without being cleared by Argentine port authorities.
"The Argentine government has energetically protested to the United Kingdom over each and every one of the British unilateral actions with which it has tried to explore or exploit natural resources located in national (Argentine) territory in an area that is the subject of a dispute over sovereignty," Foreign Minister Jorge Taiana said.
He added Argentina announced in 2007 that it would sanction companies that contracted other companies that have engaged in oil development activities in Argentina's continental platform without authorization".