Petrobras signs agreement to begin oil exploration in Uruguay's continental shelf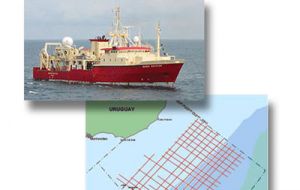 Brazil's state-managed oil company Petrobras signed this week an agreement with the Uruguayan state oil company Ancap to explore and produce oil and natural gas on Uruguay's continental shelf.
The partners of Petrobras are Repsol YPF and Galp Energia from Portugal, company said in a statement to the Brazilian securities authority, CVM.
The bidding process for the exploration blocks under the Ronda Uruguay 2009 for the Pelotas and Punta del Este Basins was held last July by the Uruguayan government and Petrobras and its partners made the best offer for Blocks 3 and 4.
The blocks are located in the South-Southeastern region of the Punta del Este basin. Block 3 is located 300 km off the coast, at depths ranging from 200 to 1,500 meters, while Block 4 is 150 km off the coast and at a depth of 100 to 200 meters.
Petrobras will be the operator for Block 4 (40%), while YPF will hold equal participating interest, and Galp Energia 20%. In Block 3, Petrobras holds 40% of the interest, YPF will be the operator (40%), and Galp Energia holds the remaining 20% of the rights.
The Company will have four years to analyze the seismic data and decide if it will undertake drilling activities. In the tender, the Company committed to perform the 2D seismic and to complete the reprocessing of existing data.