China/Peru free trade agreement becomes effective March first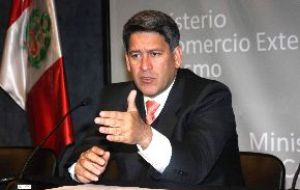 The free trade agreement between Peru and China will become effective next March first, following the green light from Beijing's all powerful Council of State, said the Peruvian Foreign Trade and Tourism ministry in an official release.
In the coming days both countries will proceed to the exchange of protocol notes which will effectively mark the end of all documentation for the bilateral agreement. The ministerial release also pointed out that Peru was ready for the announcement and was only waiting for the confirmation from Chinese authorities.
Last December Martin Perez, Minister of Foreign Trade and Tourism announced the implementation of the agreement for January 15, but Chinese authorities then asked for some more time to look into Customs details.
Once the agreement becomes effective Peru will have a privileged access to a country with the largest world market, fastest growing economy, having expanded during the last three decades at a two digit annual rate.
According to the bilateral agreement 90% of Peruvian goods exported to China, mainly industrial, agriculture and fisheries, will have access to China with no tariffs, although it does not include preferential access to the Peruvian market for some goods considered highly sensitive such as textiles, footwear and metal-mechanics.
However the free trade agreement will facilitate investments in areas such as mining, electric and wind energy and in the fisheries sector, particularly for elaborating fish meal of which China is the world's main consumer.
According to Peruvian trade officials, China has become the country's second most important market behind the US, with sales of 3.7 billion US dollars in 2008 (12% of total exports) and imports worth 3.6 billion USD.