Germany falters and France expands modestly in fourth quarter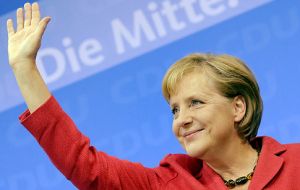 Germany's recovery from recession faltered in the final quarter of 2009, according to preliminary figures released on Friday. The German economy failed to grow at all in the last three months of the year, with GDP unchanged compared with the previous quarter.
Meanwhile, France reported a 0.6% rise in GDP for the same three-month period - better than analysts expected. Figures also showed the Euro zone economy grew 0.1% in the same quarter.
This represents a slowdown in the economies of the 16-nation zone, which grew by 0.4% between July and September last year.
Official first estimates indicated that the Italian economy shrank by 0.2% after growing by 0.6% in the previous quarter. They also showed that Spain and Greece remained in recession, with the Greek economy contracting by 0.8%.
On Thursday after a summit in Brussels, EU leaders said Greece had to take further measures to tackle its huge debts and cut its budget deficit by 4% this year.
They agreed in principle on Thursday to support Greece, but no specific commitments on aid were agreed.
Greece's debt crisis has put pressure on the Euro, making markets nervous. Following the German GDP figures, the Euro fell further against both the pound and the dollar.
The stall in German growth follows two consecutive quarters of growth in Europe's largest economy. Germany emerged from recession last summer thanks to a recovery in its exports - on which it largely relies.
"Exports were the only positive contribution," said the Federal Statistical Office.
Analysts were surprised by the figures, with the majority expecting modest growth in the last three months of the year.
Year-on-year, the economy shrank by 1.7%, the figures showed.
Data earlier this month showed a strong rebound in German exports, with exports up for the fourth month in a row in December.
That was despite an 18.4% fall in exports for 2009 as a whole - the biggest year-on-year fall since 1950, losing it the title of world's biggest exporter to China.
Meanwhile another quarter of growth in the French economy added to optimism over the strength of France's recovery from recession.
"I think [0.6%] is really a satisfactory result that proves that the stimulus measures we took ... were efficient," said Christine Lagarde, the French economy minister, speaking to a French radio station.