Thirteen cruise vessels visit South Georgia during January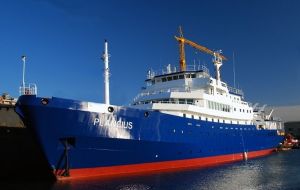 Thirteen cruise ships visited this month South Georgia, according to the SG Newsletter. This included a vessel new to SG, the 112 passenger "Plancius". However one vessel, l "Clelia II" had to cancel her visit after striking rocks with her propeller at Petermann Island in the Antarctic Peninsula.
Three more yachts arrived, two on charter. Private yacht "Aura" had not planned to visit SG and was intending to sail south of the Island en route to South Africa, but their wind vane steering system was damaged in strong winds so they decided to call in to make repairs. Despite on going problems with the engine the yacht sailed on January 20th bound for Cape Town.
South African research vessel "Agulhas" arrived on January 24th to drop 6 weather buoys which will be deployed by the FPV "Pharos SG" in the coming months.
Regarding fisheries, the trawler "Sil" has been research-fishing in the SG Maritime Zone. The vessel, which carried out some trawls in the Shag Rocks area before arriving to anchor in Cumberland East Bay(CEB), was inspected on January 16th. One scientist was embarked from the research base to join those who had already embarked in Stanley, Falklands.
The vessel then continued the programme of research fishing and deep water benthic surveys for GSGSSI.