Argentine consumers expect inflation in next 12 months to reach 30%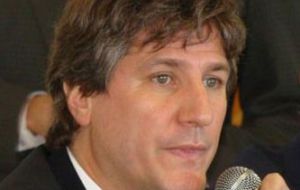 Argentines expect consumer prices to rise 31.1% over the next 12 months, led by higher forecasts from the lower income category, according to the average estimate in a poll from Torcuato Di Tella University.
Argentines with the lowest income expect consumer prices to rise 30% over the coming year, up from the 20% increase they forecast in January, the Buenos Aires-based University said in an e-mailed statement.
Meantime former central bank President Martin Perez Redrado, in an interview with newspaper El Liberal, said the government's plan to tap 6.6 billion USD in international reserves to pay debt due this year may further fuel inflation in the country. The economist following a legal battle was fired by President Cristina Fernandez de Kirchner for not backing her plan.
A January survey of 56 economists by Argentina's central bank forecast inflation of 10.8% over the next 12 months. The gap between the central bank and Di Tella is the result of the "scarce credibility that the official reports have," the university said in the statement.
Economists and politicians including Vice-President Julio Cobos have questioned the government's inflation reports since January 2007, when then President Nestor Kirchner began changing personnel at the national statistics agency.
Javier Paz, who tracks inflation at Buenos Aires-based Ecolatina research company said prices rose 2.2% in January from December. The government said prices rose 1% over the same period.
Economy Minister Amado Boudou played down the risk of a surge in inflation in an interview published by Buenos Aires daily describing recent price increases as "realignments," the newspaper reported.
The university poll of 1,201 people was conducted from Feb. 1 to Feb. 9 by Poliarquia Consultores. The survey has a margin of error of 3.5 percentage points.