Census of marine life reveals 5.000 new species and "most advanced chemicals"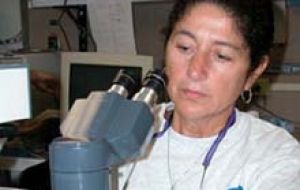 A preview of the Census of Marine Life has revealed that the project has discovered over 5,000 new species. These include bizarre and colourful creatures, as well as many organisms that produce therapeutic chemicals.
A panel of scientists presented these early insights at the American Association for the Advancement of Science annual meeting in San Diego.
The final report from the decade-long census will be released in October 2010.
The project has involved more than 2,000 scientists from 80 countries, and the researchers involved believe the census will lay the scientific foundations for marine policies to protect vulnerable habitats.
The researchers presented images of some of the most striking species discovered in the last decade, including a crab so unusual it warranted a whole new family designation. This member of the new Kiwaidae family of crabs, discovered near Easter Island, was named Kiwa hirsuta because of its furry appearance.
One member of the panel, Shirley Pomponi, a scientist from Florida Atlantic University, highlighted a new species of sponge.
This was found in the Florida Keys in August of 1999. Further investigation revealed that it produced a chemical with anti-cancer properties, which is now being investigated as a potential therapeutic.
Dr Pomponi said: "Adaptation to life in the sea has resulted in the production of chemicals that not even the most advanced computer program could produce.
"Mother nature still makes the best chemicals."
A major aim of the census is to provide the scientific support for the establishment of a global network of marine protected areas to prevent damage from fishing and other human activity.
Dr Jason Hall-Spencer, a marine biologist from the UK's University of Plymouth, said that delicate coral reefs were under threat from deep-sea trawling.
"All but one of the reefs I've looked at has been very badly damaged by bottom trawling - where a fishing net is dragged along the sea floor," he said.
"Bottom trawling bulldozes through reef habitats that are thousands of years old.
"But the good news is that we now have the data to change policy and work with fishermen to say where marine protected areas should be".