Falklands' standoff: PM Brown anticipates successful diplomacy with Argentina
Saturday, February 20th 2010 - 02:28 UTC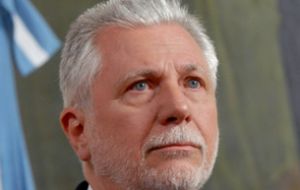 Britain and Argentina on a collision course over the oil exploration round in Falkland Islands waters, following an exchange of strong statements and actions, seemed to be sending converging messages about possible diplomatic contacts that could help find a way out to the standoff.
Prime Minister Gordon Brown said Friday he was "confident" diplomacy could resolve a standoff with Argentina on the Falkland Islands but insisted the Islanders had a right to develop a legitimate business such as an oil industry.
"The diplomacy between us and Argentina is one that I think will be successful," Brown said, insisting that Britain was acting within international law. "I think the work that's being done will avoid any tension", he added.
PM Brown made the statements during a press conference next to Spanish President Jose Luis Rodriguez Zapatero in London where they were participating of an international conference on employment and the current global slowdown.
The latest verbal skirmishes have been triggered by Argentina's decree that ships travelling through its waters to the Falkland Islands require an Argentine permit. The Argentine decision follows the imminent beginning of a round of oil exploratory drilling by British companies in Falklands' waters, over which Argentina claims sovereignty.
Brown's comments came as a the Falkland Islands government stated in an official release that oil drilling would begin as planned next week, "weather permitting."
Spanish president Rodriguez Zapatero said he wanted "dialogue, diplomacy, closeness" to resolve the South Atlantic situation, without commenting in detail.
Brown insisted the UK was acting in the framework of international law and earlier in the week expressed full support for the Falklands and any legitimate business in their jurisdiction, following the latest Argentine move.
"We have made all the preparations that are necessary to make sure that the Islanders are properly protected", said Brown adding that it is perfectly within our rights to be able to do this. I think the Argentines actually understand that. Sensible discussions will prevail on this".
In Buenos Aires Deputy Foreign Affairs minister Victorio Taccetti said that the Argentine government first objective was "to sit to the table with the UK to negotiate" about sovereignty over the Falklands/Malvinas Islands and adjoining maritime spaces.
Taccetti recalled that next Wednesday Foreign Affairs minister Jorge Taiana will be meeting UN Secretary General Ban Ki Moon in New York to push for Argentina's case. Asked to comment on PM Brown's statement Taccetti said "what is positive is the fact that the British are recognizing there's a controversy with Argentina. Acknowledging there's a problem is the first step to try and overcome it".
However Taccetti pointed out that Falklands/Malvinas is a long term policy. "We Argentines must get used to think on the long term, and this is a long term policy; we can't expect results tomorrow or in a couple of days", and once negotiations begin it "will face difficulties, ups and downs".
"We must think Malvinas is a national strategy, All united and with a clear mind, having very clearly established our objectives" underlined Taccetti.
Meantime Taiana is currently in Mexico preparing for the Rio Group two-day summit which begins next Monday and brings together the leaders of twenty regional countries. Mrs. Kirchner is scheduled to arrive in Cancún Sunday night.
Taiana expects to harvest from the Rio Group a strong declaration of support for Argentina and condemnation of Britain and "its unilateral oil exploration policy" with which he will be travelling for the appointment with Bank Ki Moon in New York.