Dilma Rousseff nominated presidential candidate for Brazil's ruling party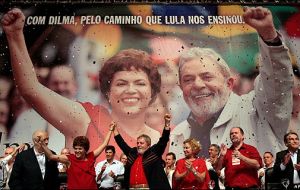 Brazil's ruling Workers Party (PT) as was anticipated, proclaimed on Saturday cabinet chief Dilma Rousseff as presidential candidate for the coming October 3 election. Party delegates nominated Ms Rousseff who had been hand picked by president Lula da Silva.
Ms. Rousseff currently stands, according to different public opinion polls, five to ten points behind the leading presidential hopeful and governor of Sao Paulo Jose Serra, from the Brazilian Social Democracy Party, PSDB
On Friday the convention approved a campaign platform which basically proposes the continuation of President Lula da Silva's policies, mostly market friendly. But is also includes proposals to expand and strengthen the role of government corporations, taxing holders of large assets and increasing welfare programs for the needy and vulnerable.
According to Brazilian electoral law, Rousseff must abandon her post in Lula da Silva's cabinet by April 3 when she will be fully involved in negotiations with ten potential allied parties most of them currently part of the ruling coalition, to agree on her ticket partner and a common program.
During the convention the three main guidelines for a possible administration of Ms. Rousseff if she finally wins and becomes Brazil's first woman president, included the words "continuity", "more social emphasis" and a "stronger State".
In the economic field the program proposes maintenance of a floating exchange rate, inflation control and strict fiscal discipline so ensure the stability of the past years enjoyed by Brazilians.
Besides stronger government corporations the PT program will favour credit policies for the private sector to guarantee sustained economic growth, the creation of jobs and business profits.
The slight leftist touch refers to taxing "wealth" and combating "the media monopolies".
"Under Lula da Silva social support plans have advanced as never before in Brazilian history, but under an administration of Ms. Rousseff more must be done", said Patrus Ananias, Social Development and Hunger Combat minister addressing the 1.200 party delegates in Brasilia.
The current "family basket" program benefits 11 million of poor families with children at school and other programs promote family farming and training for technical trades.
"But some of these programs must be consolidates and others must be extended to other areas of the country", said Ananias.
Ms Rousseff is a former guerrilla from the seventies who only a few years ago joined Lula da Silva's Workers Party from a smaller more radical force.
However she has been considered pivotal in helping Lula da Silva's administration recover from corruption scandals during his first mandate which forced him to sack or dismiss most of the PT leaders and top advisors.