Falklands suffer the first Argentine attack of the 2010 cyber war
Monday, February 22nd 2010 - 01:21 UTC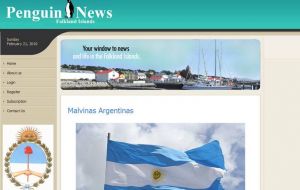 The Falkland Islands suffered a first cyber-war attack from Argentine hackers who hijacked the website of the Falkland Islands' weekly, Penguin New, posting reasons why the disputed Islands should belong to Argentina rather than Britain.
In the midst of the escalating controversy over the start of the oil drilling round in Falklands waters which Argentina firmly opposes, hackers posted in the weekly's home page a collection of pro Argentina statements in Spanish with a light blue and white background - the colours of the Argentine flag and an audio recording the "March of the Malvinas".
The material was removed early Sunday.
The Argentine activists wrote that "the islands are Argentine" and claimed the move was a "tribute" to the country's soldiers who died during the Falklands War.
The islands belong to Argentina because "we inherited them from Spain and the River Plate vice-royalty" argued the hackers. They also pointed out the fact "Argentina is the nearest country," and that navigators working for Spain in the 16th century first visited the Malvinas, long before England.
The Islands also are part of Argentina's continental shelf, according to the posting. "The first children born in the Malvinas were/are Argentines" continued the cyber diatribe.
Argentina has threatened to ban British companies with any links with the oil venture from the mainland and has insisted that all ships traveling between Argentina and the Falklands must seek permission from Argentine authorities.
However a British cruise ship carrying 2.600 tourists on board is expected to arrive at Port Stanley Monday as the first real test of Argentina's resolve. The "Star Princess" set sail from Buenos Aires with no demand for a permit from the authorities and was not expecting any disruptions.
The mainly British passengers were due to visit the Falklands capital as one of the highlights of their South American cruise. The ship is also carrying a number of Argentine tourists on board.
Cruise tourism has become a significant source of income for the Falklands, Buenos Aires city and the south of Argentina so it is thought unlikely that the Argentine government will want to risk alienating cruise operators and losing a lucrative slice of the profits.
Argentina's Deputy Foreign Minister Victorio Taccetti tried to play down the row at the weekend, claiming his government was merely seeking to re-open talks over the disputed sovereignty of the Malvinas Islands. He admitted Argentina does not have the naval resources to enforce the famous decree 256 on maritime traffic and is not interested in displaying any act of force.
Buenos Aires media also reported that the "Star Princess" before leaving contacted her agents about the new regulation, and after a round of "non replies" in different offices they only managed the concession that "the decree is still waiting for its implementation", particularly regarding the naming of a commission under the cabinet chief that supposedly would decide on the requests.