Mexico gives birth to the Community of Latinamerican and Caribbean States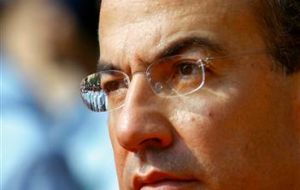 Latinamerican and Caribbean nations are to set up a new regional bloc of all the countries in the Americas, with the exception of the United States and Canada. The decision was formalized Tuesday at a regional summit of the so called Rio Group in the Mexican resort of Cancun.
The alliance will embrace 32 states and is seen as an alternative to the Washington-influenced Organisation of American States (OAS), the main regional body set up in 1948 under US guidance as a means of combating communism in the region.
The new body will include Cuba, which was suspended from the OAS in 1962 because of its communist revolution, and last year rejected an invitation to rejoin.
It is the latest example of a decade-long drive within the Americas to deepen continental integration and lessen the once overwhelming influence of the US on politics and economies.
The formal foundation of what is provisionally to be called the Community of Latin American and Caribbean States will not take place until a summit in Venezuela next year with President Hugo Chávez as host.
Although Chavez has been the most vocal lately, Brazil and the conservative president of Mexico have also pushed for the creation of the new body, arguing that the region's developing nations need a separate organisation to represent their interests on the global stage.
"It is time to realise the unity of Latin America and the Caribbean" Mexican president Felipe Calderón told the 24 heads of state at the summit.
Despite a flourishing of regional bodies in recent years – the Union of South American Nations was founded in 2008 under Brazilian guidance – the region has a poor record when it comes to integration. Despite strong linguistic and historical ties, trade and infrastructure links are poor, and its nations are prone to constant quarrelling.
The Mercosur trade bloc of Brazil, Argentina, Uruguay and Paraguay has stagnated in recent years, while in 2006 Chávez withdrew from the Andean Community of Nations after fellow members Peru and Colombia signed free trade agreements with the US.