Chile's largest copper producer increases output: first time in five years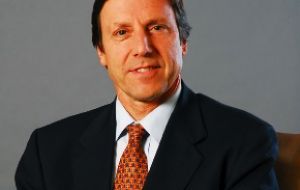 Chile's Codelco, the world's largest copper producer, increased production in 2009 for the first time in five years, helped by a new mine. The company also generated an impressive surplus over the last four years.

Production reached 1.78 million metric tons, the highest since 2006, boosted by a full year of output from the Gabriela Mistral mine, the company said in a presentation in Santiago Thursday. Output in 2008 was 15% less at 1.55 million tons.

State-owned Codelco spent 2.2 billion US dollars last year to develop its copper reserves, the world's largest, to meet rising demand for power cables and electrical wire from China. Declining Codelco output prompted prices to rise 140% last year on the London Metal Exchange.

"We are observing a market that remains strong" Chief Executive Officer Jose Pablo Arellano told reporters in Santiago. Demand from China, the world's largest buyer of the metal, remains "firm," he said.
Codelco's net income fell 20% to 1.26 billion last year from 1.57 billion in 2008, according to data posted on the Web site of Chile's securities regulator. The company didn't provide fourth-quarter results.

Codelco increased production in 2009 at its Chuquicamata copper mine, part of its largest Norte division. The mine in the Atacama Desert, which was once exploited by the Guggenheim family, is now in its 95th year of production. There are "opportunities" to expand production at Norte this year, Arellano said.

Codelco also generated in four years (of President Michelle Bachelet) more surplus than in the previous sixteen years, said Arellano. He mentioned the sum of 26.7 billion US dollars, a small percentage of which, under Chilean legislation, goes to a special fund to help re-equip the country's Armed Forces.

"Our position has been to achieve the best and the most, and with efficiency, since it's an asset that belongs to all Chileans", underlined Arellano.