Falkland Islands: Desire chief says it's boom or bust as drilling begins
Friday, February 26th 2010 - 19:28 UTC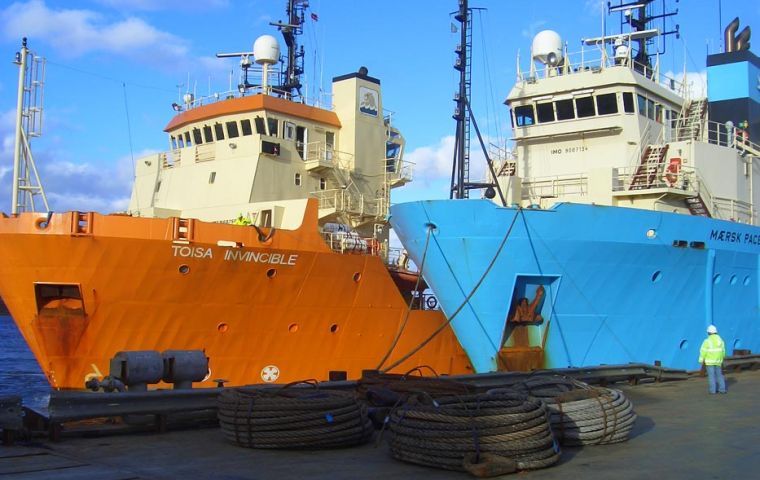 FOUR days into a drilling operation that has captured the attention of the world's media, Desire Petroleum's Operations Director Bob Lyons conceded: "This is it: we're a one trick pony. It'll either be successful or it won't. It is very simple."
As Desire's share prices rose on the back of news that drilling had begun and fell as Argentina ramped up its efforts to disrupt the first exploratory drilling in 12 years, the man responsible for the operation was unfazed by the current political situation.
"We just want to get on with it," he told the Penguin News in an exclusive interview yesterday.

"We were fully aware of what Argentina's stance would be so we planned it so we wouldn't require any support from anywhere locally. We're self sufficient, we can do it all ourselves," he said.
In view of the shipping restrictions Argentina had attempted to implement he said all the necessary equipment would come out of the UK, "so it doesn't affect us in the slightest."
Plans had not been altered because of the shipping restrictions, and Argentina's response was anticipated, said Mr Lyons, adding that he thought the press had made much of the situation. Even if Argentina were to increase the level of pressure, it would not stop the operation, he said.
Out on Desire's Liz prospect 100km off West Falklands, everything on the Ocean Guardian - manned by about 90 workers - is progressing according to plan.
Weather conditions have been less than ideal in the early stage, but are similar in many respects to those encountered in the North Sea, where Ocean Guardian was last operational, said Mr Lyons.
"It can cope with quite a lot. Working in 2-3 metre seas with quite a lot of wind is fairly routine," he said. "We tend to get higher winds here for longer periods, but it's not untoward."
Wind speed alone can restrict crane operations and there are different limits of rig motion for different operations.
He also spoke of the prospect of Desire becoming a takeover target if drilling succeeds: "We are a small company and exploration drilling is a completely different animal to a full development programme. That is a bridge we will have to cross, hopefully when we do come to it."
He said there would be a fundamental shift in how the company was set up and what it would need to take it to the next phase, should the occasion arise.
"It always has been an option and we may well reach a time when we want to pass the baton on to someone else to take it to the next phase. It would be a nice problem to have," said Mr Lyons.
He discounted rumours that the rig had been buzzed or shadowed by Argentine air force jets while in transit. "It's just gossip," said Mr Lyons who confirmed that on February 10 an Argentine coastguard aircraft had flown over the rig on a routine flight, but that there had not been any other air activity.

By Sharon Jaffrey - Penguin News - Stanley