Falklands: UK MOD denies naval incident with Argentine vessel
Friday, February 26th 2010 - 06:39 UTC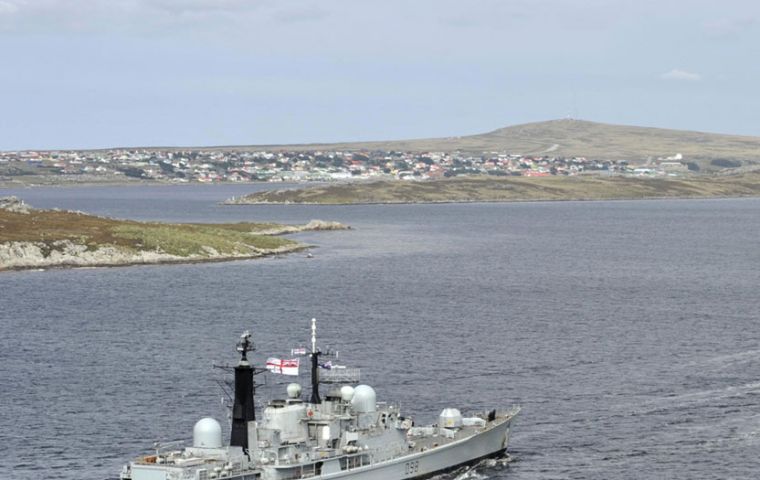 The British Ministry of Defence strongly denied Thursday any incident in the Falklands territorial waters involving a Royal Navy South Atlantic patrol and an Argentine Navy corvette, as reported in some London sensational media.
UK Defence officials however did admit that there was "friendly dialogue by radio" between the South Atlantic patrol vessel HMS York and the Argentine corvette ARA Drummond while sailing in the area in rough waters.
"We can confirm that on 28 January this year during rough weather and at night, HMS York and an Argentine ship were operating in the same locality," said a ministry statement.
The incident happened in international waters around 50 miles from the territorial waters of the Falklands, said the ministry.
"After a friendly dialogue by radio they each continued with their own exercises," said the statement.
The Falklands are at the centre of a dispute between London and Buenos Aires after British oil companies announced drilling plans off the Islands, over which Argentina claims sovereignty.
The Sun newspaper reported the HMS York monitored the progress of the Argentine corvette ARA Drummond before radioing the vessel to change course.
The paper said the ship had entered a so-called conservation zone, the area where Britain is carrying out oil exploration.
But Britain's MOD declined to comment on a report in the Sun newspaper that a submarine had been sent to the Falklands, but added it was not increasing its forces in the area.
"We do not comment on (British) submarines," said the ministry. "Our force structure remains unchanged and is being maintained at routine levels," it added.
In related news British and US sources anticipated that Argentina would be seeking the support from Washington in its Falklands dispute with the UK when President Cristina Kirchner meets Secretary of State next Monday in Uruguay.
The scheduled meeting announced by Hector Timerman, the Argentine Ambassador to Washington, will take place in Montevideo when Mrs. Clinton will attend the presidential inauguration of José Mujica.
"Argentina will be pressing the White House to drop its declared neutrality and support Buenos Aires in the dispute, which looks set to deteriorate further", said the sources quoted in UK and US media.
The US official position so far has been to stick to with a policy of non-intervention. Philip Crowley, the State Department spokesman, said that the US maintained a position of neutrality but encouraged "good faith dialogue", adding that if both sides requested mediation "we would consider it".
The State Department was unwilling to offer immediate comment on how Hillary Clinton planned to deal with an issue that will undoubtedly be raised not only by Ms Kirchner but also by other regional leaders with whom she is to meet. The week-long tour follows the Rio Group summit in Mexico, at which 32 Latin American and Caribbean heads of state backed Argentina's claim of sovereignty.