Argentina warns BHP Billiton about drilling in Falklands' waters
Monday, March 1st 2010 - 01:39 UTC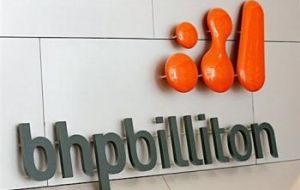 Argentina's ambassador to Australia says Melbourne based mining group BHP Billiton will face business sanctions if it pushes ahead with oil exploration in Falklands waters. BHP has a licence to explore off the Falkland Islands and is scheduled to start doing so in the next four months, reports Australian Broadcasting Corporation.
But Ambassador Pedro Villagra says if the company proceeds, their business in Argentina will suffer.
"If they conduct activities they will not be allowed to carry out some activities in the Argentine territory in the mainland," he said.
Argentina has never relinquished its claim over the Falkland Islands in the South Atlantic and the dispute flared again in February when a British oil exploration firm started drilling off the Falkland Islands.
BHP, in partnership with Falkland Oil and Gas Limited, holds 14 exploration and production licences for the East Falkland Basin - licences which have brought Argentina's wrath to Australia.
Ambassador Villagra says Argentina first officially warned BHP when they began talks with Falkland Oil and Gas Limited in 2007.
"Normally these letters are called letters of discomfort and advises any company that is engaging in these kinds of activities of what might the consequences be for Argentine law," he said.
"The communications simply advised BHP - BHP Petroleum in this case - that they should not engage in any acts of exploration, of exploitation unilaterally called by Great Britain.
"And if they decide to pursue this they may [incur] the sanctions that the Argentine law foresees for this kind of operation."
BHP does not currently have any operations in Argentina but has in the past held stakes in gold and copper mining projects. The miner is one of several companies prospecting for oil off the coast of the Falkland Islands this year.
The first of these, Desire Petroleum, began its explorations this week, with BHP and its minority share partner Falkland Oil and Gas Limited set to follow suit within four months.