Uruguay aims to reduce debt load and boost trade in next five years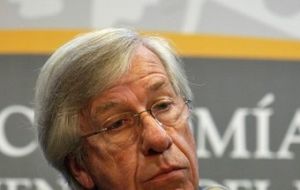 Uruguay's Vice President-elect Danilo Astori said the next government will reduce the country's debt load and seek to boost trade with the rest of the world in a bid to bolster economic growth.

Astori, who takes office Monday March first with President-elect Jose Mujica, said the government will continue the policies of current President Tabare Vazquez. Astori served as finance minister under Vazquez until September 2008, when he stepped down to run for office.

"We will keep going in the same direction," Astori, 69, told reporters in Montevideo. He added that main axis will lead the next administration: increasing the physical capacity of the economy; fostering human capacities with improved education and training; greater development capacity based on a higher level of education and promoting the capacity to link and relate with the rest of the world, through trade and investments.

Astori recalled that Uruguay's net debt as a percentage of GDP fell 40 percentage points to 26% under Vazquez, who took office in March 2005 and wasn't eligible for re-election. Furthermore under Vazquez, the central bank's reserves almost quadrupled to 7.9 billion US dollars, unemployment fell to 6.3% in December from 12.3 percent, and Finland's Metsae-Botnia Oy opened a 1.1 billion USD pulp mill, Uruguay's biggest investment in recent times.

The Uruguayan government forecasts the economy will expand 4% this year, spurred by rising prices for soybean, wheat and beef exports, after having managed to neutralize the effects of the global downfall in 2009.

Uruguay is the world's eighth-largest exporter of beef, and shipments may climb 2.9% this year as global demand grows, according to the US Department of Agriculture's Foreign Agricultural Service.

Astori said Uruguay would be asking the US to help promoting scientific research and improving overall the technical education in the country.

"The fact Secretary of State Hillary Clinton is coming to the inauguration is a very strong message and support for the new administration. We're going to request support for developing technology and that Washington back the re-capitalization process of the Inter American Development bank", said Astori.