Russian billionaire looses 53 million USD deposit on villa purchase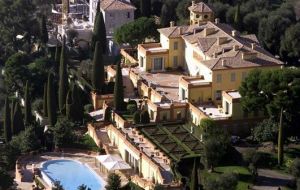 Russian billionaire Mikhail Prokhorov lost 53 million US dollars deposit on a 530 million USD villa in southern France after a court ruled Tuesday that he failed to complete the purchase.
The court in Nice, France, ruled that the widow of banker Edmond Safra will receive the 53 million USD deposit that was paid when a holding company owned by Russia's second-richest man agreed to buy Villa Leopolda in July 2008, according to court documents provided by Lily Safra's attorneys.

The final contract wasn't signed by a December 15, 2008, deadline, the documents say, causing the deposit to be forfeited under French law.
"The law has been applied and justice has prevailed" Lily Safra said in a statement. Some of the millions from Tuesday's ruling will be distributed among ten charities in France, Israel, Rwanda, the US and the UK, she said.
Villa Leopolda, a 20-acre (8 hectare) estate with views of the bay at Villefranche and the Mediterranean Sea, fetched a world record price for a home the Nice-Matin newspaper said when it reported the agreement in 2008. Residences in the French Riviera, chiefly at Cap Ferrat and Monaco, vie with London as the most expensive in the world, according to adviser Knight Frank LLP.
The Nice court ordered the release of the deposit, held in an escrow account, and ruled that Societe Fonciere du Treho, controlled by Prokhorov, pay Safra 1.5 million Euros in damages and 30,000 Euros in costs. Prokhorov himself was ordered to pay 15,000 Euros.
Prokhorov and Societe Fonciere du Treho will appeal the ruling, said Denis Chemla, a Paris-based attorney at Herbert Smith LLP who represents them. They didn't proceed with the purchase because the agreed-upon sale price was changed, he said. That led them to file a lawsuit for return of the deposit in January 2009.
The sale came at the end of a decade-long boom in property prices on the Cote d'Azur, the French name given to the coastline that runs east of Marseille to the Italian border. In the second quarter of 2008, luxury homes on nearby Cap Ferrat were worth about 42,320 Euros a square meter, Knight Frank estimated.
Prokhorov, 44, owns stakes in aluminum producer United Co. Rusal, investment bank Renaissance Capital and OAO Polyus Gold, and his personal wealth is 17.9 billion USD, Finans magazine estimated last month.
The villa at the center of his dispute with Lily Safra is named after Belgian King Leopold II, who built it in 1902. Edmond Safra bought the property from Giovanni Agnelli (whose family owned Italy's Fiat) and used it to entertain guests including Ronald Reagan and Frank Sinatra.
The French Riviera luxury home market has started to recover after coming to a standstill with the collapse of Lehman Brothers Holdings Inc. in September 2008.
"People were very afraid and some lost part of their fortunes," said Geoffroy de Ville d'Avray, marketing director of the brokerage Engel & Voelkers France, which is selling a villa on Cap Martin, near Monaco, with a 240 million-Euro asking price.
In February 2009, Finans said Prokhorov was Russia's wealthiest man with a fortune of 14.1 billion USD. That was even after the global financial crisis caused the number of Russian billionaires to shrink to 49 from 101 a year earlier.
Edmond Safra died in a fire in his 30-room penthouse in nearby Monaco in 1999 for which his nurse was jailed. That property was sold to Nick and Christian Candy, the British luxury-home developers.