Sails of South America 2010 from Buenos Aires head for Ushuaia
Saturday, March 6th 2010 - 15:35 UTC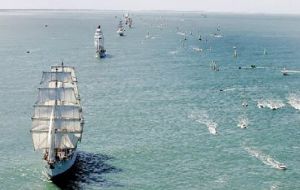 Bicentennial celebrations winds arrived in Buenos Aires this week with the imposing figure of eleven tall ships, wonderfully crafted relics of the past that will be docked until next Tuesday when they sail on to the South Atlantic.
"Sails of South America 2010" has brought together magnificent sailing ships, among them frigates, schooners and brigs from various countries of the Americas and Europe to participate in the Bicentennial Regatta.
The event is organized by the navies from Argentina and Chile to celebrate the bicentennial of the first national governing board during the struggle of South American countries to break away from the then Spanish colonial empire.
The unique challenge has gathered thousands of navigators in the most important ports of the region, sailing emblematic places for the mariners of all times, like the circumnavigation of the mythical "Cape Horn".
The vessels departed from Rio de Janeiro on February 7th and arrived in Buenos Aires this week after having called at Mar del Plata, Punta Del Este and Montevideo in Uruguay.
"We want the event to be a festivity for Ibero-American nations. It's an emotive expression of fraternity and union", said Captain Luis Maria Gonzales, PR for the Argentine Navy that is hosting the tall ships in Buenos Aires.
In the coming four days each of the vessels is scheduled to give a display of music, dance and traditions of diverse cultures each of them represents.
There will be parades in downtown Buenos Aires and open days for the public to visit the vessels.
Next week from Buenos Aires the regatta leaves for Cape Horn, Ushuaia, Punta Arenas and eventually Valparaíso. The celebration concludes in several months time in Veracruz, Mexico.
The vessels docked in Buenos Aires are: "Capitán Miranda", Uruguay; "Cisne Branco", Brazil; Cuauhtémoc, México; Esmeralda, Chile; Europa, Holland; Gloria, Colombia; Guayas, Ecuador; Juan Sebastián Elcano, Spain; Libertad, Argentina; Sagres, Portugal; Simón Bolívar, Venezuela, and Eagle from the US Coast Guard.