Strong 6.6 aftershock hits Chile's most damaged area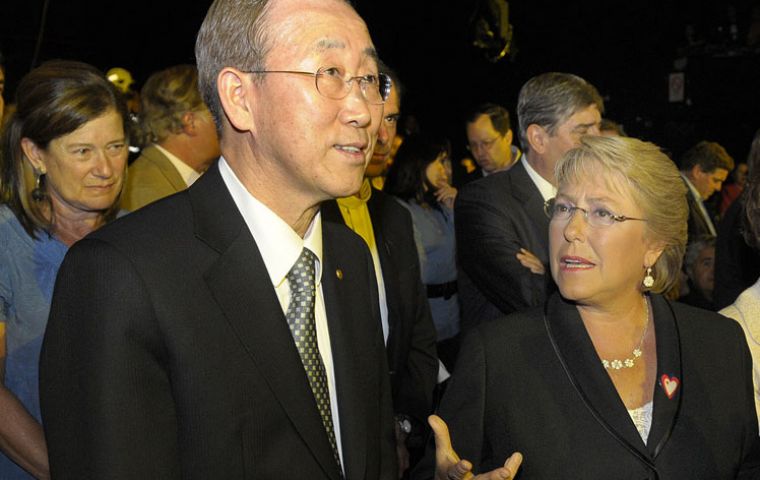 Another strong aftershock jolted Chile nearly a week after the deadly 8.8 magnitude earthquake caused widespread destruction. In the badly-hit city of Concepcion, some residents ran into the streets Friday as the magnitude 6.6 tremor shook the area.
There were no immediate reports of injuries or damage. Concepcion was the city closest to the epicentre of the February 27 quake. Dozens of aftershocks have been reported since the initial quake occurred.
Meanwhile, Chile's ambassador to the United Nations says last week's earthquake cost the nation's economy 30 billion US dollars and will cost at least that much to rebuild.
In a briefing with reporters Friday at UN headquarters in New York, Ambassador Heraldo Muñoz said the agriculture and wine industry alone lost 280 million USD in the initial earthquake. He said the fishing industry took a hard hit as well, with entire fishing villages wiped out.
Muñoz said a telethon would be held in Chile late Friday and into Saturday to raise funds for relief efforts. Muñoz said visiting UN Secretary-General Ban Ki-moon would participate in the event and promised 10 million US dollars donation.
Ban Ki-moon met Friday in Santiago with President Michelle Bachelet and President-elect Sebastian Pinera, who takes office March 11 and later visited the ravaged city of Concepcion virtually under military curfew because of the looting and pillage.
The UN Secretary General praised the leadership and courage of President Bachelet and incoming head of state Piñera and underlined the unity and coordination displayed in the rescue efforts.
Ambassador Muñoz said there are signs Chile is recuperating. He said the capital, Santiago, is operating almost normally. He also noted that while Concepcion is still in bad shape, 58% of the city's automatic teller machines and 65% of food markets are operational.
Santiago's main airport with improvised infrastructure was rapidly returning to normal activity and Lan, the country's flag carrier and main airline said that it was working at 60% of its capacity.
Chile Thursday declared a three-day mourning period to remember those lost in last Saturday's quake. There has been some confusion as to the official death toll which reached 802, but the ambassador said the figure will be lowered because in some places the missing were counted as dead. The latest number of effectively counted dead bodies has reached 452.
More info about Telethon: http://www.chileayudaachile.cl/ or by Twitter: http://twitter.com/Teleton_Chile