Latam conservative parties encouraged with recent electoral victories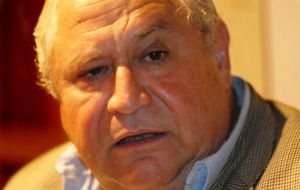 Latinamerican conservative political parties meeting in Central America said there has been a set back for the left wing in the region following on the recent conservative electoral victories in Chile, Costa Rica, Honduras and Panama.
"There has been a rebirth and change of positions and the pendulum is moving. We hope the time for change has begun for the whole of Latinamerica", said former Salvador president Armando Calderón (1994/1999) in a Sunday interview with the El Salvador local newspaper "Diario de Hoy".
Under the banner of Union of Latinamerican Parties, UPLA, conservative parties and youth groups are meeting in El Salvador to asses the latest political events in the region.
Eva Gustavsson from the Swedish Jarl Hjalmarson Foundation had a similar perspective anticipating a resurgence of right wing parties following on the recent victories of Porfirio Lobo in Honduras, Ricardo Martinelli in Panama, Laura Chinchilla in Costa Rica and Sebastián Piñera in Chile.
"For the last two years everybody when looking at Latinamerica watched at what was happening with the governments of Bolivia, Venezuela, Michelle Bachelet in Chile who had a very clear Socialist tendency, all that is now changing", said the Swedish politician.
In the case of Honduras, where President Manuel Zelaya was ousted in June 2009, and later Porfirio Lobo was elected in November 29 the same year, "we are seeing the reaction of the people that became fed up each time the government moved further to the left and with a clear dictatorial tendency".
Alejandro Páiz from Guatemala's Unionist Party said that "all the problems of shortages that are being faced in those countries with Socialist regimes make the people desperate and to look for other alternatives".
Regarding Venezuela, Calderón from the National Republican Alliance party, ARENA, pointed out that "the country is changing" and public opinion on President Hugo Chavez "is falling, deteriorating, collapsing".
"A country so rich, virtually sitting on oil and gas, which is the world's energy and can't provide its own people with power, is a sin and is a signal that something is fundamentally wrong", underlined Calderón.
Honduran lawmaker Mario Barahona, from the National Party to which President Lobo belongs anticipated steps back for the Chavez model.
"It's not long before he falls", forecasted Barahona.