Britain files legal challenge against EC over Gibraltar waters row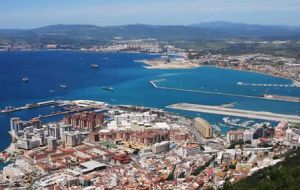 The British Government has filed a legal challenge against the European Commission's decision to re-list Spain's controversial nature site in Gibraltar waters. Britain had already announced that it would take the step and the case was filed with the European Court of Justice last Thursday, just a day before the March 5 deadline.
A spokesman for the Foreign & Commonwealth Office declined to provide any further detail on the ongoing legal case.
The row over the waters stems from a decision by Brussels to approve a Spanish request to list most of Gibraltar's territorial sea - and an area of international waters too - as one of Spain's protected sites under EU law.
In doing so, the Commission ignored the fact that Britain has jurisdiction over these waters and had already designated part of them as a European protected site in 2006.
Last year, the Gibraltar Government filed a legal challenge against the EC's initial decision to list the Spanish site. That case seeks to have the EC's decision annulled and it is likely that the British action will seek a similar aim.
It is not clear at this stage, however, whether both governments have used similar legal arguments to achieve that goal. In any event, both cases will be contested.
Brussels, supported by Spain, is already challenging Gibraltar's case on the grounds that only Britain has the jurisdiction to bring such a case to court. Britain has now taken that step and, although neither Spain nor the EC have confirmed this yet, both are likely to contest the UK filing too.