"European Monetary Fund" to cope with Greece type crises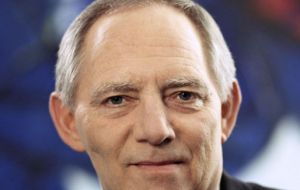 The European Union is considering creating a rescue fund that could anticipate fundamental changes in the 27-country bloc and bring closer economic cooperation following Greece's debt crisis.
The idea of a European monetary fund was floated over the weekend by German Finance Minister Wolfgang Schaeuble, who said he favoured an institution that commanded "the experience of the International Monetary Fund and similar executive powers."
The European Commission, the EU executive, said on Monday it was ready to propose a rescue instrument for the 16 countries using the Euro but did not say whether it would involve treaty changes, which would require the backing of all 27 EU states.
It is unlikely such a fund would be in place in time to help Greece through its debt crisis, which threatens the credibility and unity of the Euro zone, but it could help tackle similar crises if they arise in other heavily-indebted EU states.
"The Commission is ready to propose such a European instrument that has the support of Euro zone member countries," Economic and Monetary Affairs Commissioner Olli Rehn said in a newspaper interview published on Monday.
In Germany, Clemens Fuest, who chairs the Finance Ministry's technical advisory committee, said an European Monetary Fund would make sense only if it permitted states to go bust.
"Such a fund must provide for an insolvency procedure for countries," he told Reuters. "A solution must be found for this, so that one country's bankruptcy doesn't lead to a new financial crisis, a Lehman II."
The failure of the US investment bank Lehman Brothers in 2008 helped precipitate the global financial crisis. Fuest said an EMF could use its reserves to buy up the debt of bankrupt countries, but bondholders should not be bailed out entirely and would have to accept "haircuts."
The EU Lisbon treaty that came into force on December 1 does not allow for bailing out euro zone countries, but it allows for aid to EU members outside the currency area.
Some economic analysts said the fund could be based on the treaty's provision that allows a group of countries to cooperate on certain matters more closely than others. Following that path would boost policy coordination in the Euro zone, but also leave behind EU countries outside the currency bloc.
To be genuinely effective, the fund's creation should be accompanied by increased political and fiscal cooperation, something that many countries have opposed so far for fear of ceding too much power to EU institutions.