Falklands all Party Parliamentary Group chairman steps down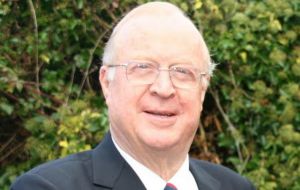 The Falkland Islands Government hosted a dinner at the House of Commons to say farewell to Sir Nicholas Winterton MP, as Chairman of the UK Falkland Islands All Party Parliamentary Group (APPG), a post he has held since 1997.
Sir Nicholas retires from Parliament at the next general election after serving 39 years as an MP. He was a founding member of the APPG in 1981, and a staunch supporter of the Falklands, which he visited twice, firstly in 1990, and then again for the 25th Anniversary commemorations in 2007.
Sukey Cameron MBE, Falkland Islands Government Representative, hosted the dinner on February 24 and presented Sir Nicholas with a painting of Stanley.
Nicholas was born in 1938. He was educated at Rugby School. He is married to Ann, from 1983 MP for Congleton, and they have two sons, one daughter and seven grandchildren.
After completing his National Service in Germany Sir Nicholas worked for Shell-Mex and BP and later for Construction Machinery Company.
Sir Nicholas first stood for election to Parliament in 1969 at a by-election in Newcastle-under-Lyme and again in the same constituency at the General Election in 1970. He was elected to Parliament after winning Macclesfield in a by-election in September 1971.
He is currently the senior member of the Speaker's Panel of Chairmen, and one of the four members of the Panel who takes sittings in Westminster Hall on a regular basis with the honorary title of Deputy Speaker. He was knighted in June 2002 for services to Parliament.
He is heavily involved in the House of Commons and chairs the Procedure Select Committee, having been first elected as Chairman in 1997. He also serves as the senior Conservative member of the Modernization Select Committee and the Liaison Committee. He is one of two Vice Chairmen of the Conservative Parliamentary Party 1922 Committee.
He is member of the Executive Committee and Finance & General Purposes Committee of the Commonwealth Parliamentary Association and of the Executive Committee Inter-Parliamentary Union. He is also Joint Chairman of the British-Taiwan Group.
Nicholas was a member of the Social Services Select Committee from 1979-90 and then Chairman of the Health Select Committee from 1990-92. Nicholas' interest in health matters is highlighted by his position as an Honorary Vice President of the Royal College of Midwives, which recognizes his role as Chairman of the Health Select Committee when it produced a ground breaking report into maternity services.
His continuing and active interest in sport has led to a position of Vice Chairman of the All Party Parliamentary Manchester 2002 Commonwealth Games Group, and Nicholas was able to visit all the major sporting facilities for the Games in Manchester before the Games took place.
He is a Freeman of the City of London and a Past Upper Bailiff and Member of Court of The Worshipful Company of Weavers and for his many years of support for the St John Ambulance he was installed as a Serving Brother of the Order of St John.
However last year in a letter to David Cameron, the Tory leader, Sir Nicholas and Ann said that they could no longer "maintain the hectic pace" of political life and wanted to step down in order to spend more time with their family.
Their decision came after the Telegraph disclosed that they claimed more than £80,000 in rent for a small London flat that was owned by a trust controlled by their children. Since 2002 the Wintertons' flat in Westminster has been owned by a trust which is controlled by their children.
In his letter to Mr Cameron, Sir Nicholas wrote: "Parliament and my constituency have been my life for almost 38 years (and politics in general for almost 50 years) and in Ann's case for more than 26 years, but when you feel as we do that maybe the years are taking their toll and perhaps we can no longer represent Macclesfield and Congleton with the some level of energy and enthusiasm as in the past, we have reached the conclusion that we should pass the baton to a younger person because both Congleton and Macclesfield deserve the very best."
Mr Cameron responded: "I completely understand your decision to stand down and appreciate that these must not have been easy decisions to make.
"I would like to take this opportunity to thank you for the service, energy and commitment both of you have demonstrated to Parliament and to your respective constituencies. Never before has a husband and wife team served the House of Commons for a total of 65 years and this is something you can both be very proud of."