Russian company sets up sturgeon farm in Argentina to produce caviar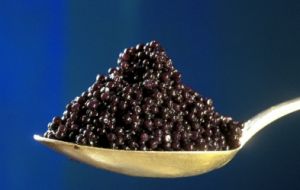 The Russian company Sturgeon & Caviar is set to begin in coming weeks the production of caviar in the Argentine northern province of La Rioja according to local government sources.
This would become the second caviar producing plant in Latinamerica, following the opening in 2007 in Uruguay of the largest sturgeon in captivity farm. ]
The Russian company signed a fifteen year contract for the concession of a fish farm plant in Anillaco where it will begin breeding sturgeon and the very much coveted eggs, caviar.
The project has the goal of a ten ton annual production of caviar in eight years following the different development stages, according to the local representative for the Russian company, Facundo Fredes.
"In fifteen days time we should have the plant ready and in a month's time we should be receiving the sturgeon eggs from Russia", added Fredes.
The plant will also help to study the sturgeons outside their natural habitat, "which will be undertaken by Russian biologists. Sturgeon is considered a species at risk", said Fredes.
The plant was originally launched by President Carlos Menem (1989/1999) in the eighties when he was governor of La Rioja and the idea was to set a fish farm industry in Anillaco which happens to be his hometown.
However the project never really took off and changed several times of owner and in certain periods was almost abandoned.
According to Russian biologists 90% of the world's sturgeon is fished in the Caspian Sea, but catches have been diminishing for years and now it has been declared a species in risk of extinction.
Countries with coast along the Caspian sea are Russia, Iran, Kazakhstan, Turkmenistan and Azerbaijan.