Violence and crime eroding the popularity of President Chavez
Tuesday, March 9th 2010 - 20:33 UTC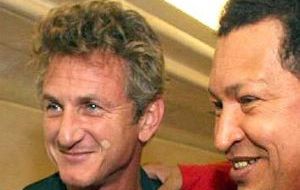 It has been several years now since the Venezuelan government published official statistics on violence but according to a NGO that keeps records of crimes, last year 16.047 people were killed, compared to 14.800 in 2008 and 4.500 in 1998.
Close sources to the Venezuelan administration of President Hugo Chavez admit that this is one of several issues that lately have been eroding the president's popularity which is threatening for the coming legislative elections of next September, when the ruling party wants to ensure its two thirds majority in Congress.
In the last few months the Chavez administration has tried to face head on the crime wave in urban areas particularly the capital Caracas and for this purpose created the national police.
President Chavez, who until recently avoided talking about violence and rampant crime, went as far as to admit that the situation "has become a risk for the Bolivarian revolution".
"Chavez has the idea that the revolution must break structures and continues to believe that violence is part of the class struggle, the conflict of the poor against the rich. But what we have in Venezuela is the poor killing the poor" said Roberto Briceño-León, head of the ONG Venezuelan Violence Observatory.
According to the ONG in the last three years, 91% of murders have gone unpunished.
But in spite of the mounting problems faced by the Chavez administration the former paratrooper turned politician and his Bolivarian revolution have strong and notorious overseas admirers.
Hollywood star Sean Penn said that any journalist who dares call or write that Chavez is a "dictator" should be "sent to jail".
"Every day this elected leader is called a dictator and we simply accept it, and this happens in the main stream media and principal newspapers. There should be a limit that if it is crossed you are sent to jail for saying so many lies", said Penn.
The actor has visited Chavez on several occasions and was the first US citizen to interview Cuban president Raúl Castro when he toured the island at the end of 2008.
Sean took the opportunity to criticize the US media arguing that "here in the US we have difficulties to get into the skin of what has been the history of Venezuela, of Latinamerica and so many other places. We are mono-cultural and we are hypnotized by the US media".
He added, "for example take Chavez, who knows he has been through 14 of the most transparent elections in the world and has been democratically elected by overwhelming majorities?"