Germany wants "Graf Spee" Nazi eagle displayed in a museum
Wednesday, March 10th 2010 - 00:42 UTC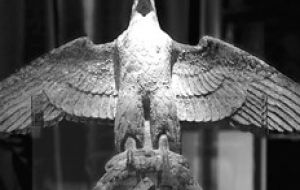 German Foreign Minister Guido Westerwelle called Tuesday for wreckage from a Nazi-era warship recovered off the coast of Uruguay to be displayed in a museum rather than auctioned to the public.
During a brief visit to Montevideo, Westerwelle was asked about the ongoing diplomatic dispute over parts of what was once the pride of the Nazi navy, the "Admiral Graf Spee," since they were salvaged in 2006.
"We want to prevent wreckage from the ship, in particular the Nazi symbols, from landing on the market for military insignia," he told reporters after talks with his Uruguayan counterpart, Luis Almagro.
"We want the remains of the Graf Spee to be dealt with properly."
The ship was scuttled in 1939 in shallow waters off Montevideo after been hounded by a British flotilla. Its wreckage includes a giant bronze eagle with spread wings with a swastika under its talons -- a favored Nazi symbol that could fetch a handsome sum at auction.
Businessman Alfredo Etchegaray and Falklands' born marine archeologist Mensum Bound participated in an operation to salvage the eagle and Mr. Etchegaray has asserted his right to sell it.
But the German government opposes a public auction of the World War II-era relic, which adorned the legendary battleship's stern, claiming that it belongs to Berlin and should not land in the hands of Nazi-memorabilia fanatics.
"We are also willing to do our part to contribute to the necessary historical approach here" Westerwelle said. "In a museum, the historical context could be carefully presented. We are seeking a constructive solution".
The Graf Spee's captain, Hans Langsdorff, scuttled the battleship on December 17, 1939 following one of the first naval confrontations of World War II, the battle of the River Plate.
The German Navy ship, one of the Third Reich's largest battleships, briefly sought sanctuary in Montevideo's harbor from two British ships and a New Zealand battleship which were seeking to sink it.
After sailing out of the harbor, Langsdorff ordered the Graf Spee scuttled after apparently falling for a ruse that a large British naval force was awaiting his ship in international waters. Langsdorff committed suicide in Buenos Aires days later following the naval humiliation. He wrapped himself in the traditional German Navy flag.
While in Montevideo, Westerwelle held talks with new Uruguayan President Jose Mujica, a former radical leftist rebel fighter who took office March 1, about strengthening bilateral, political and trade ties. The two countries signed a treaty to avoid double taxing.
The German minister, together with a numerous business and media delegation is on a Latinamerican tour which began Sunday with aid delivery to quake-stricken Chile followed by talks in Argentina Monday. He was set to travel to Brazil later Tuesday for a three-day visit.