Lula da Silva refers to Ahmadinejad and Chavez as two "nutties", says O'Globo
Monday, March 15th 2010 - 21:58 UTC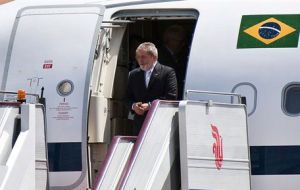 Brazilian president Lula da Silva allegedly referred to Iranian president Mahmud Ahmadinejad and Venezuelan president Hugo Chavez as "nutty" leaders which must be kept under control through close links, reports the Brazilian newspaper O'Globo.
"You can't leave some one who is nuts on the loose" Brazilian Lula da Silva allegedly argued before the European Union insisting that is why "links with Iranian president Mahmud Ahmadinejad must be maintained, to have him under control".
Lula da Silva then added that is why "Brazil keeps close links with Venezuela's Chavez".
"Here in Europe you can't leave someone who is nuts on the loose, you must travel to Iran to control the man (Ahmadinejad) at least once every four months", allegedly President Lula da Silva told a European leader, writes O'Globo.
"That's what I do with Chavez: every now and then I stop by in Venezuela"
Lula da Silva is currently on an official visit to Israel and has suggested that Iran be included in the Middle East peace talks and defended the right of Iran to develop a nuclear industry with peaceful purposes.
Last November Lula da Silva met with Ahmadinejad in Brasilia and is scheduled to visit Teheran next May 15 for another round of talks.
Brazil's policy of support for Iran and its refusal to support new sanctions against the Islamic regime were also in the agenda addressed when the visit of US Secretary of State Hillary Clinton last week.
During the meeting an in spite of US efforts to convince Brazil to join new sanctions initiative, Lula da Silva was quoted saying "be careful not to corner Iran".