Lula da Silva calls for Palestinian state during official visit to Israel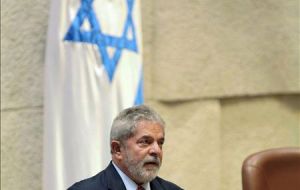 Brazilian President Lula da Silva kicked off a Middle East trip in Jerusalem by saying he wants to promote regional peace, after expressing concerns last week that Israel may attack Iran over its nuclear program.
"We came here to talk about peace, but we also came here to strengthen our ties with Israel" Lula da Silva said at a welcoming ceremony in the Jerusalem residence of Israeli President Shimon Peres. "We are interested in pushing forward the peace process."
Lula da Silva later called for the establishment of a Palestinian state and said Israeli settlements were hurting the peace process. "The time has now come to open a circle of negotiations and to overcome mistrust," he said in a speech to the Israeli parliament.
Israeli Prime Minister Benjamin Netanyahu, speaking in parliament in Lula da Silva's presence, called on Brazil to join an international coalition against Iran. The Brazilian president told Israel's Haaretz newspaper last week that a diplomatic solution was needed to end the dispute over Iranian nuclear development or that Israel would use military force against Iran.
The US is pushing for a fourth set of United Nations sanctions against Iran over its atomic work. Iran denies allegations by the US and some allies that it may be trying to build a nuclear weapon.
"The leaders I spoke to believe that we must act quickly, otherwise Israel will attack Iran," Lula da Silva told Haaretz. "We can't allow what happened in Iraq to happen to Iran. Before any sanctions, we must undertake all possible efforts to try and build peace in the Middle East."
Lula da Silva is the first Brazilian president to make an official visit to Israel. He will also meet the Palestinian Authority's president, Mahmoud Abbas, and prime minister, Salam Fayyad, and then travel to Jordan.
The first day of visit was not without incidents. Israeli Foreign Minister Avigdor Lieberman stayed away from the Knesset during Lula da Silva's address to protest the Brazilian president's refusal to lay a wreath at the grave of Theodor Herzl.
Lieberman also boycotted a meeting between Prime Minister Binyamin Netanyahu and his guest afterward to which he had been invited.
This policy, however, did not filter down to the Foreign Ministry staff, who throughout the day were downplaying the incident, saying the Brazilian president's decision not to lay a wrath at Herzl's tomb on Monday was due more to confusion over protocol than anything else.
An Israeli Foreign Ministry spokesperson said that Israel only informed Lula da Silva of the wreath laying ceremony last week, after the schedule had been meticulously planned weeks in advance.
The Brazilians, the spokeswoman said, did not understand why they were being asked to do something that other leaders had not been asked to do.
Only last week, she explained, did Israel initiate a policy to honor Theodor Herzl's 150th birthday by having all visiting heads of state lay a wreath at his grave.
Lula da Silva is expect to visit the tomb of Yasser Arafat during a visit to Ramallah on Tuesday for a meeting with Palestinian Authority President Mahmoud Abba