Falklands rife with speculation waiting for first oil drilling results
Friday, March 19th 2010 - 15:25 UTC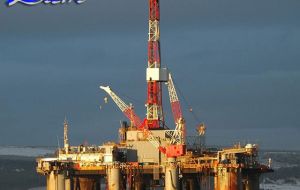 Speculation was mounting this week on news of a potential oil strike as a promised announcement from hydrocarbons exploration company Desire Petroleum grew closer.
Having contracted the semi-submersible rig the Ocean Guardian for its initial round of drilling, which arrived on site on February 19 and began with the spudding of the first well on February 23, Desire Petroleum stated it would not be making any report on progress until the first campaign was concluded.
The company also said it would take some 30 days to drill down to the target depth of 3,500m. No announcement would therefore be expected much before March 25.
However, fuelled by poor arithmetic, or in part by stories in the international media, reports of stock prices jumping on the back of unsubstantiated rumours and, perhaps, news of a VIP visit to the rig on Monday, the diddle-dee grapevine briefly ran even hotter than usual early in the week. The rumours included a story that oil samples were taken on the military airbridge on Tuesday for testing in the UK.
Officials at the Falkland Islands Government's Mineral Resources Department declined to comment, but did admit to a helicopter flight, describing it as "a routine visit to the Ocean Guardian drilling rig to observe operations."
Members of the Minerals Resources Department, including Director Phyl Rendell, were accompanied by Legislative Assembly Members Roger Edwards, Jan Cheek and Emma Edwards.
Cllr Emma Edwards, who is the mineral resources portfolio holder, described the visit as "routine, but very informative."
Desire's shares gained 8.9 per cent on Monday, while Rockhopper Exploration saw its shares jump by an impressive 11 per cent.
However, by Thursday, Desire's share price had dipped by 3.25p and Rockhopper's by 1.75p, suggesting the market had rejected any early suggestions of a substantial oil discovery.
Meanwhile, the UK media have continued to focus on South Atlantic defence issues, most recently claiming that a nuclear submarine is in Falklands waters to "strike fear into the hearts of any possible enemy."
Two of Britain's tabloid papers, The Sun and The Mirror, led on Wednesday with unconfirmed reports that HMS Sceptre, a 5,000-tonne Swiftsure Class nuclear-powered submarine, had been dispatched to the South Atlantic from South Africa.
"Details of Sceptre's presence in the waters around the Falklands came as speculation mounted that British firm Desire Petroleum has struck oil," wrote The Sun.
Built in the 1960s and described by one newspaper as the oldest ship in the Royal Navy still afloat, HMS Sceptre is nevertheless equipped with sonar, attack and search periscopes, collision avoidance radar and state-of-the-art listening sensors. In addition it has five torpedo tubes capable of firing Spearfish anti-ship torpedoes.
If the week has proved less than exciting for most people interested in Desire Petroleum's progress, there was some excitement for the company's local representative and former non-executive director, Lewis Clifton.

Lewis's wife Barbara gave birth on Wednesday to a son, Joseph Benjamin.
Penguin News congratulates Lewis and Barbara and hopes this happy event may augur well for another happy event with greater consequences for the Falklands economy... perhaps as early as next week.
By John Fowler – Penguin News - Stanley