Lula da Silva wants Hamas and Hezbollah in Mid East negotiations table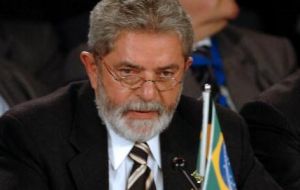 Brazilian president Lula da Silva said he is willing and available to begin talks with the Palestine Hamas organization, as well as Lebanon's Hezbollah and even Iran, to reach peace in the Middle East.
"We need to talk to Iranians, we need to talk with the Syrians, with Israel, with the Palestinians, with Hamas, with Hezbollah, that is with all sides involved in the problems of Middle East", said Lula da Silva at the end of his Middle East tour which took him to Israel and Palestinian territories.
The Palestinian Hamas organization and Hezbollah in Lebanon are included in a list of terrorist groups by the United States.
Last week the US Treasury froze the assets and banned all transactions with the National Islamic bank and with the television station Al-Agsa, since they both "contribute" to Hamas operations "a global terrorist organization".
"Brazil is interested in peace, we believe Israel is interested in peace, so is Palestine, Jordan, United States, Iran, Syria, all the world is interested in peace for the Middle East", said Lula da Silva.
"I'm very optimistic, I don't think there are impossible things; I believe in the solution of things that are difficult; to solve difficult things politics needs to establish discussions", underlined Lula da Silva during his weekly radio program, "having coffee with the President".
Lula da Silva insisted with his proposal, which he announced during his recent Middle East trip, to expand the dialogue table in the region to include participants that are rejected both by United States and Israel.
Lula da Silva has a scheduled a visit to Iran in the coming weeks. Following his visit of Israel and the Palestinian territories, President Lula da Silva dispatched Foreign Affairs minister Celso Amorim to Syria to officially inform Damascus of his peace talks' initiative for the Middle East.