One out of five Spaniards "below the threshold of poverty"
Tuesday, March 23rd 2010 - 23:02 UTC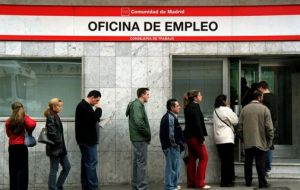 Spain's economic crisis had devastating effects on the quality of life of the population during 2009. According to a damning survey on living conditions in the country published by the National Statistics Institute (Instituto Nacional de Estadisticas) 13.7% of households in Spain had "great difficulty" in making ends meet at the end of each month.
Additionally just under 20% of the population (1 out of every five Spaniards), "was beneath the threshold of poverty, with one out of every three households having no financial backup to fund an emergency.
The survey also showed that 16.8% of the population encountered "difficulties" at the end of each month, with 28.5% having "some difficulty" in reaching the end of the month. These are the worst figures recorded in Spain since 2004.
Spain's economy contracted 0.1% in the three months through December, as it continues to battle high unemployment. The country has the largest unemployment rate in the Euro-zone at 20%, with some 45% of under 25s without a job.
The government pumped billions of Euros into the economy in order to mitigate the downturn and in the process racked up a massive budget deficit. Spain's budget deficit, at 11.3% of GDP, is nearly four times over what European Union rules allow.
The government has announced spending cut plans, including a civil service hiring service and a raise in the retirement age in a bid to consolidate public finances and bring down its deficit.
The Spanish government in agreement with the opposition is considering in Parliament a so-called "Sustainable Economy Law," which aims to raise Spain's long-term growth potential and reduce its reliance on the construction sector.