Argentina apologizes to Peru and anticipates closer political links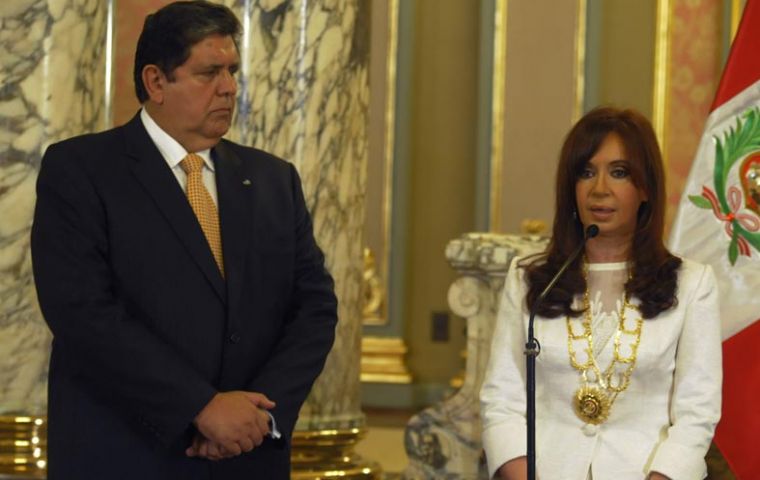 Argentina and Peru put an end this week to sixteen years of "cold relations" with official apologies and a historic reparation from visiting President Cristina Fernandez de Kirchner who also signed with her peer Alan García a Strategic Association bilateral agreement.
The historic reparation refers to the 1995 alleged illegal sale of weapons to Ecuador while Peru was in an armed conflict with the former during Carlos Menem's presidency.
"I feel that this visit after 16 years is a visit of institutional apology and historic reparation", said Mrs Kirchner who highlighted the importance of the countries' "common historic bonds" and remembered the "Peruvians' solidarity during the Malvinas wartime".
Previously President Garcia had extended a friendly hand saying that "after such a long chill and distance, this is the end-point for an irritating incident that should have never happened but did not dent our long history of friendship".
The stage took place at the imposing Government Palace, once head of Spain's richest and most powerful Viceroy in South America.
During her speech Mrs Kirchner assured: "There are few nations with which we have such important common historic bonds. The Peruvian administration sent us airplanes, pilots, missiles, and aid during Malvinas wartime."
She also insisted on the idea that this is a trip "to make amends on behalf of the whole Argentine country; we owed this to ourselves" she said. "Those who believe that peace can be guaranteed with weapons are mistaken. Peace is guaranteed with equality, with improved income distribution, with educated societies, this is the true battle."
"I'm completely certain that, after this trip in which I'm escorted by 140 Argentine businessmen, our bilateral relationship will deepen" Mrs. Kirchner expressed.
After meeting García, the president conducted an open talk with 130 of the most significant businessmen of Peru and then had lunch with them.
The Argentine president travelled with Ministers Débora Giorgi (Industry), Carlos Tomada (Labour), Nilda Garré (Defence), and Lino Barañao (Science and Technology).
The Argentine business delegation also agreed to the creation of a bilateral business council with Peruvian counterparts to boost trade, investment and cooperation.
According to Argentine official sources, bilateral trade with Peru reached its peak in 2008 with 1.4 billion US dollars but last year the curve fell short of that number, mainly because of the global economic meltdown, and ended at 856 million USD.
Argentina's main exports to Peru consist of soy oil, sunflower, heavy machinery, and steel tubes. On the side of the imports, Argentina buys from Peru cotton products, tin, plastic sheets, and copper wire.
On Tuesday in a special ceremony the Argentine president addressed the Peruvian Congress where she was honoured with the Medal of Honour in the Grade of Grand Cross. She later held talks with Lima's Mayor, Luis Castañeda Lossio, at the Municipal Palace where she was solemnly presented with the city's keys.