Climate change puts an end to India-Bangladesh island dispute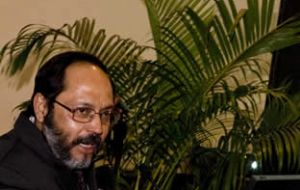 Once a flashpoint in India-Bangladesh ties the New Moore Island or Purbasha in the Bay of Bengal, which Dhaka called the South Talpatti, has ceased to exist consumed by hungry tides and the rising sea.
This was announced on Monday by the School of Oceanographic Studies, Jadavpur University, India after it scrutinised recent satellite maps of the region.
"There is no presence of the island now. The recent satellite images establish this. This is the first time the loss of the island is being reported" Professor Sugata Hazra, Director of School of Oceanographic Studies, told a meeting.
In the early 1980s, both Bangladesh and India staked claim to the island — 3.5 km long and 3 km wide, located 2 km from the mouth of the Hariabhanga river. In 1981, India sent naval ships to the island and deployed BSF personnel, who hoisted the Indian tricolour to establish, legitimize Indian claim on New Moore. But there was never any permanent settlement there.
"This is a unique instance of how climate resolves a dispute though it is now subdued. It also goes to show how climate can affect all of us beyond geographical boundaries. The Indian government had once sent ships with guns to guard the island. Now one will have to think of sending submarines to mount a vigil there," Hazra said.
The New Moore Island was first noticed in 1974 in satellite images but experts claimed the island was more than 50 years old. The island surface was only two metres above the sea level.
Hazra said the island was clearly visible in satellite images until 1987 after which it started diminishing in size. And now there is no trace of the island, he said.
Before New Moore, the first inhabited island to have been submerged by the rising sea level was Lohachara in the Sunderbans in 1996. Ghoramara (India) is another island which faces a similar threat — almost 48% of the island is said to have been submerged. The submergence of Lohachara and Ghoramara have resulted in large-scale migration with those displaced being called "climate change refugees" by environmentalists.
Hazra said the total area of islands in the Sunderbans had diminished from 6569.799 sq km in 1969 to 6359.552 sq km in 2009, denoting a loss of about 210 sq km in 40 years. "There has been more accelerated erosion of land mass between 2001 and 2009 with an estimated loss of about 84.20 sq km," he said.