UK launches biggest ever probe into insider dealing in the City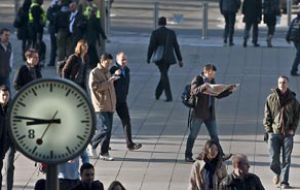 Major financial institutions are embroiled in the UK's biggest ever probe into insider dealing, it has emerged. The City is reeling after learning three of its top financiers are among six men arrested on suspicion of being involved in a sophisticated and long-running insider dealing ring.
Leading names such as Deutsche Bank, US hedge fund Moore Capital and French bank BNP Paribas are among those with staff implicated in the probe. Sky News City editor Mark Kleinman broke the news of the arrest of a Deutsche employee and also identified a financier under investigation as "one of the world's best-known hedge fund managers".

The suspects were held during dawn raids on Tuesday as officials searched 16 homes and businesses in London, the South East and Oxfordshire. Suspicions were first raised in late 2007 over a series of transactions involving the six men.
It is believed City workers passed inside information to traders, both directly and via middlemen, who used the sensitive data to cash in.
City regulator Financial Services Authority (FSA), which led the operation, has confirmed the six men include two senior City professionals at "leading city institutions" and a hedge fund financier.
More than 140 of the FSA's investigators were supported in the operation by staff from the Serious Organised Crime Agency (Soca) in the first joint effort by the two bodies.
Investigators have been questioning the suspects and examining seized computers, mobile phones and documents. The move was the latest chapter in a crackdown on insider trading by the City regulator, representing the fifth set of arrests carried out by the FSA into insider dealing since 2008.
The FSA's chief executive Hector Sants admitted recently that market abuse was at an "unacceptably high level". The regulator has announced plans to hire hundreds of extra staff in a bid to become more "proactive" in its oversight of the City