First minefield cleared in Falkland Islands – thanks to Zimbabweans
Thursday, March 25th 2010 - 20:45 UTC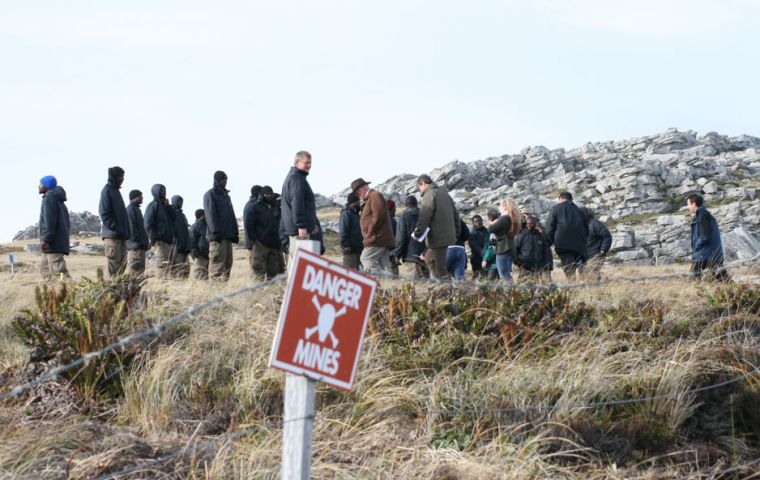 ZIMBABWEAN de-miners were cheered and clapped by a large crowd of Falklands residents today as the, "brave and hardworking" experts demonstrated confidence in their work by holding a soccer game in the recently cleared Minefield 25 on Sapper Hill near Stanley.
The minefield was one of the first laid by Argentine Marine Engineers in April 1982, one of number that was intended as a linear defence of Stanley, said Kev Bryant of the British Mine Clearance Company BACTEC today.
A fascinated audience of Islanders and residents, plus the Governor and a British Foreign and Commonwealth Official, Colin Roberts, were told how the minimal metal mines were laid in six panels each made up of three rows that in turn contained eight mines.
All of the mines in this field were carefully recorded by the Argentine forces; a practice that unfortunately broke down in the latter months of the Falklands Conflict.
The de-miners have been 77 days clearing the area that was, "the hardest to carry out to date," said Mr Bryant.
He explained that full excavation was needed due to the lack of metal in these particular mines rendering the metal detector pointless. The heavy excavation work was made all the harder by the, "thick fibrous rooted peat," and because the area flooded easily.
The Falklands has suffered a particularly wet and windy summer this year, adding to the discomfort of the men who are used to a far warmer climate.
To make the task even more difficult, prior to actual mine clearance, the area of land between the road and the minefield had to be cleared of dangerous ordnance that had resulted from British air attacks on Argentine forces in the latter stages of the Conflict.
After the briefing the de-miners, in a demonstration of confidence, walked from one end of the minefield to the other before having a 'kick around' with a soccer ball. The Governor, Mr Roberts and others, plus the Islands press, then took a walk through the former minefield.
Mr Bryant also announced that it was a special day for the men as they had just found their 1000th mine in the Surf Bay minefield.
By Lisa Watson –SeAledPR - Stanley