Indian forces armed with the hottest of spices grenades to combat terrorists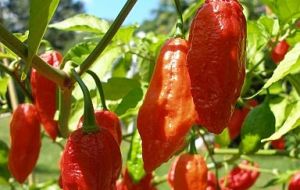 Indian Armed Forces have a new weapon to combat terrorism: 'bhut jolokia' recognised as the hottest of spices. Forces will pack a punch mixed with hand grenades or tear gas shells to deal with terrorists, as trials by Indian defence scientists have shown.
A defence spokesperson said scientists at the Defence Research and Development Organisation (DRDO) in Tezpur in northern Assam were making a trial run of the hand grenades and other repellents by using the bhut jolokia.
"The chilli grenade is a non-toxic weapon and when used would force a terrorist to come out of his hideouts as the smell is so pungent that it would literally choke them" R.B. Srivastava, a senior scientist and director of the DRDO said.
The DRDO scientists had already carried out trials for the hand grenades mixed with the world's hottest chilli and so far the tests have been satisfactory.
The bhut jolokia belongs to the capsicum Chinese family and is native to Assam. It is recognised by the Guinness Book of World Records as the hottest of all spices.
The hotness of the bhut jolokia, measured in Scoville heat units was 1,001,304. It's nearly twice as hot as Mexico's red savina (577,000), the variety it replaced as the hottest. By comparison, a New Mexico green chilli contains about 1,500 Scoville units, while an average jalapeño measures at about 10,000.
"Work is on to develop other such things using bhut jolokia for effective utilisation by the security forces in dealing with riots and tackling insurgency and terrorists," Srivastava said.
The non-lethal grenades devised by the DRDO could numb the enemy and immobilise them without seriously wounding or killing them.
"There are other applications as well, what we call women power. A specially made chilli powder could act as a tool for women to keep away anti-socials and work in this regard is also on," he said.