Latinamerica, "winning region of the financial crisis", says optimistic IDB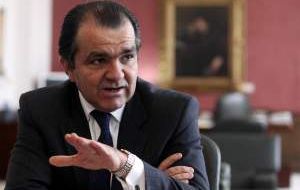 Latin American countries' banking and financial officials were optimistic Tuesday about their future development, saying most economies in the region were strengthened after the global financial crisis.
Mexico, Colombian, Peruvian and Mexican ministers all expressed confidence in the regional economy for 2010.
Colombian Treasury Minister Oscar Ivan Zuluaga said that Latin America "is the winning region of this financial crisis" as a result of its integration with Asia.
Peruvian Economy Minister Mercedes Araoz agreed that Latin American countries' connections with Asia have contributed significantly to their high growth rates, adding that sustainable internal demand is also key to ensuring growth for Peru.
Mexican Deputy Treasury Minister Alejandro Werner said that he "is positive for 2010, because even though there are uncertain factors, the region was strengthened". Mexico's economy is predicted to grow 3.5% in 2010.
The meeting, attended by 48 member countries of the IDB, was called to discuss the institution's future operations and development challenges facing Latin America and the Caribbean.
During the meeting, the governing board of the IDB agreed to boost its capital by 70 billion US dollars to strengthen its ability to give loans to Latin American countries. IDB President Luis Alberto Moreno said this has been the largest increase in the institution's history.
The IDB has been under pressure to increase its capital after the global financial crisis last year increased demands for development lending. The IDB is comprised of 26 borrower members in Latin America and the Caribbean and 22 non-borrowing countries, including its main shareholders, the United States, China, Japan and 16 European countries.