Mercosur expects a next move from EU to advance trade discussions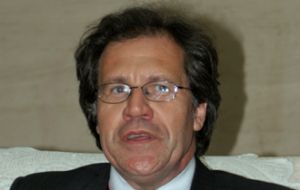 Mercosur expects the European Union to improve its offer so that both sides can advance towards a free trade agreement, according to Brazil and Uruguay's Foreign Affairs ministers Celso Amorim and Luis Almagro who met in Rio do Janeiro this week.
"We've agreed in our discussions that Mercosur has advanced with sufficient steps in the negotiation with the European Union and it would be very encouraging to have a similar move from our counterpart, so that we can advance", said Almagro following the meeting with Amorim.
He added that Mercosur is interested in a trade agreement with the EU, "which is vital for us, and for this we are committed to discussions", but the next move now belongs to Brussels. "What we are expecting is a definitive improvement in the EU offer referred mainly to the access of farm produce from Mercosur".
Almagro said that Mercosur has given significant strides in the discussions and has increased considerably the offer, so the next step must come from the Europeans. "Following Mercosur position to advance with a substantially improved offer, almost equalling that of the EU in other fields, we think the next move must come from them so we can start moving again".
Both sides have repeatedly stated they want to reach an agreement this year, following discussions started in 1995, but which stalled in 2004 over discrepancies mainly in the agriculture sector, and only were resumed last year.
The free trade agreement with Mercosur is one of the main objectives of the Spanish presidency of the EU and both sides trust that they can make effective some advances before next May, when Madrid hosts the bi-annual summit of Latin America and Caribbean leaders with their EU counterparts.
The latest talks were held last week in Argentina that holds the pro-tempore chair of Mercosur during the first half of 2010.
Speaking from Buenos Aires the Argentine Secretary of Commerce and International Economic Relations Alfredo Chiaradía said that following last week's talks, "the ball is now in the EU court; hopefully there is political will to improve conditions to negotiate".

"The problem basically is the EU attitude which argues that gaps are too wide, regarding goods, services and investments, and conditions to re-launch negotiations are limited if gaps persist", revealed the Argentine official who nevertheless insisted "it's time for the EU to come up with their homework".
A new meeting of negotiators is scheduled for April in Europe "so that in the May summit we can make some announcement".
Meantime the Brazilian financial publication Valor Economico revealed that the new Mercosur proposal includes opening the car and auto-parts sectors to European sales by cutting from 18 to 15 years the period for total elimination of tariffs. Similarly a mutual tariff reduction for several agriculture industrialized produce.
Apparently EU proposed the possibility of reducing the number of Mercosur farm produce exposed to import tariffs and quotas from 14 to 3, as long as "there are reciprocal measures".
EU is also concerned because bilateral trade with Mercosur in 2009 represented a 10.5 billion US dollars deficit.